There's a movement to build a more cohesive and useable software platform that leverages marketing automation platforms (MAPs) and sales automation platforms (SAPs) to enable content marketers to drive more impact across their organizations: the Content Marketing Platform. 
Although marketers have been practicing content marketing for decades, digital marketing coupled with a new, buyer 2.0 environment has created a whole new set of opportunities and challenges in the content marketing realm. This next generation of content marketing is producing significant dividends for marketers as they continue to invest in this effort to further drive leads and revenue. [source]
75% of marketers are increasing investment in content marketing
42% of companies have an executive responsible for content marketing, reaching 49% in 2017
Key process areas are being established such as content strategy, production (with an editorial calendar and workflow management), distribution and analytics.
57% of leading marketers predict an increase in marketing analytics spending.
There has been a mind-numbing proliferation of technology vendors and solutions to address the needs of content and digital marketers. Curata's content marketing tools map has increased from 40 vendors to over 130 vendors in its most recent version.

What is a Content Marketing Platform?
Regardless of which market studies you look at, content marketers have the following evergreen challenges:
Limited budget for staff and program spend.
Creating enough quality content on a regular basis, whether in-house or externally sourced.
Distributing content across multiple channels, including publication and promotion.
Measuring the impact of content, i.e., what works and what doesn't work to drive awareness, leads and sales enablement.
Content Marketing Platforms (CMPs) help marketers solve these challenges. A definition of a Content Marketing Platform is as follows:
A Content Marketing Platform is a software solution that helps marketers be more successful in driving awareness, leads and revenue from their content. This platform enables a data-driven, scalable, and multi-channel approach across four process areas: strategy, production, distribution (publication and promotion) and analytics. 
A Vision for the Content Marketing Platform
The below framework provides additional details about the four key process areas addressed by a CMP. Ultimately, a CMP helps content marketers develop and execute an effective and efficient content marketing strategy.
The following frameworks offer additional perspectives as to what processes and related tactics are addressed by a Content Marketing Platform.
Joe Pulizzi and Robert Rose assembled the framework based upon their own success at the Content Marketing Institute. These areas represent common elements of a high impact content marketing practice.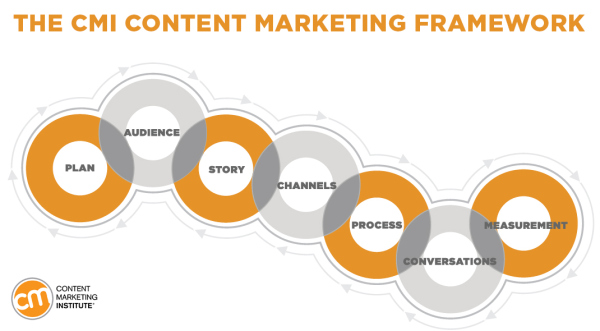 Lee Odden, a thought leader in the content marketing space and CEO of TopRank Online Marketing, put together this simple to follow, yet powerful, framework for successful content marketing.
Rebecca Lieb of Altimeter did a very thorough job identifying the more tactical areas required to fulfill three key use cases for content marketing: Feed the Beast, Refine (including content analytics, segmentation, and promotion), and Govern.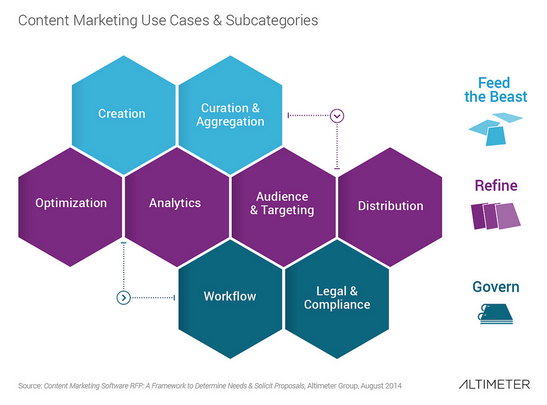 Jay Baer of Convince and Convert put this framework together using the knowledge gained from helping many big brands form their own content marketing strategy. His seven-step approach helps kickstart the process of formulating a content strategy, a process he says can take up to 60 days.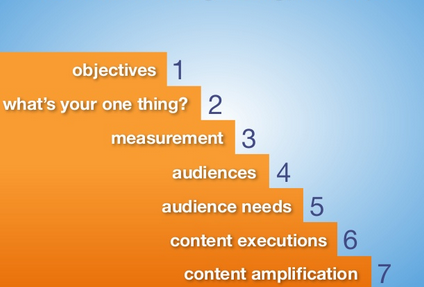 Content marketing expert and consultant Barry Feldman created a comprehensive post outlining this eight-step content marketing plan to quadruple your leads.
Heidi Cohen, content marketing expert and President of Riverside Marketing Strategies, provides these 13 steps to successfully establishing a content marketing strategy:
Determine the goals for your content marketing plan.
Know your content marketing audience.
Incorporate your brand into your content.
Determine what information your audience seeks.
Tell your firm's "once upon a time."
Use different content formats.
Build an editorial calendar.
Make your content attractive to prospective readers.
Make your content findable.
Allocate sufficient resources.
Distribute content.
Promote content.
Measure content marketing results.
What a Content Marketing Platform Is—and What it Isn't
There are countless tools available to help marketers work their way through each of the process areas and tactics described above. Only a small fraction of them however, have the mission of addressing most, or all of these areas in one solution. To help marketers navigate the sea of vendors across the content marketing technology space, here are some clarifications of what a CMP solution is and isn't:
A content management system (CMS) for the web is NOT a Content Marketing Platform.
A CMS is designed to run web sites (e.g., corporate web sites, blogs, content repositories), and to avoid the need for manual coding. Their main function is to "store and organize files, and provide version-controlled access to their data." [source] CMPs are designed to orchestrate the development, delivery, and analysis of content to CMSs, as well as many other types of digital media entities. A foundational element of a Content Marketing Platform is its ability to interact within an ecosystem of marketing teams, processes, and technologies, without being the sole hub for content delivery. Examples of CMSs include WordPress, Drupal, Joomla!, Percussion and Uberflip.

The value enabled by a CMP cannot be provided by a marketing automation platform (MAP) such as Marketo, Eloqua, Pardot, Act-On, etc. MAPs are designed to plan, execute, and measure demand generation campaigns and the interaction with leads from these campaigns. MAPs are lead-focused, not content-focused. However, MAP data is a key component of the value provided by a CMP, as detailed below.
A CMP provides interoperability with the various software systems that make up the marketing technology ecosystem, such as:

Multiple CMSs
Social channels or Social Media Management Systems
Marketing Automation
Sales Force Automation
Content repositories: Ask anyone that has attempted to stop the use of SharePoint systems how likely it is you'll get everyone to use only one content storage area. Therefore a CMP should—either today or as part of its roadmap—interoperate with different content repositories.
Email as a method of collaboration amongst internal and external teams will not be replaced anytime soon. Attempting to get all parties involved in content marketing onto one system only reduces the potential for technology adoption. Therefore a CMP should interoperate with email applications, and be able to track communication about specific content pieces as part of orchestrating the content production process.
A CMP enables orchestration of the content production process in a minimally invasive manner.

Team alignment: A high impact content marketing strategy requires alignment and interaction with many functions across marketing. For example, content marketers may have to interact with product marketing for content creation, social media for promotion, or marketing operations for analytics. A CMP enables collaboration across these different teams without requiring all of them log into the CMP, increasing its adoption and impact.
Content creation tool: Some CMP vendors require content creation within their own platform, necessitating all content creators to be trained on system usage and to interact with it on a regular basis. Other CMP vendors track content creation progress in a less process-invasive manner, enabling the continued use of industry standard creation tools such as Microsoft Word, Google Docs, Microsoft PowerPoint, Google Spreadsheets, Photoshop, and WordPress.
CMPs are not limited to a specific content type or publishing environment, working with any:

content format, e.g., video, text, images.
type of content, e.g., ebooks, white papers, infographics, blog posts.
source, e.g., created, curated, licensed, outsourced, crowdsourced content.
distribution channels, e.g., paid, earned, owned.
content internal to or external to the CMP.
A CMP enables the measurement of your content's impact across awareness building (such as social channels, Google Analytics), demand generation (such as leads generated and influenced), and sales pipeline impact (such as sales opportunities generated and influenced). This is only possible if a CMP is capable of aggregating data from many applications, both within and external to your company. Even better is if a CMP can measure the pipeline impact of content published off-site on someone else's blog or media property.
Where Should a Content Marketing Platform Sit in Your Marketing & Sales Technology Stack?
To understand how a CMP fits into your technology stack, begin with a basic question: What are the ultimate objectives of marketing and sales technologies? The bottom line—or should I say the top line, is REVENUE. That's where our story begins.
The Advent of Sales Force Automation
Right around at the turn of the millennium there was a shift from the expensive, outbound sales model to inbound telephone and Internet-enabled sales. This change was driven by the advent of the Internet and the resulting online presentation tools such as WebEx, which effectively enabled salespeople to perform demonstrations of software and presentations—and ultimately close deals—without ever meeting their customers in person.
But the growth of insides sales teams was chaotic. Unlike outside sales people who each carry their own physical rolodexes, inside sales teams manage their leads in spreadsheets.
While this was a large advancement over the prior generation, it presented a host of new problems such as:

How are leads and territories assigned across a sales team?
Sales managers need to keep tabs on sales activities being performed by their teams.
A sales account executive needs to know what prior interactions a company has had with an account.
How can sales management easily report and predict their pipeline revenue across large and sometimes geographically distributed sales teams?
The solution to the above challenges was Sales Force Automation (SFA) platforms (often misidentified as Customer Relationship Management (CRM) systems) such as Salesforce, Oracle, Siebel, and Microsoft Dynamics among others. These systems:
Let sales managers hold their teams accountable in terms of their sales activities.
Offer transparency for reporting.
Provide a means to scale sales teams.
Most importantly, they provide value for the everyday sales representative: convenience, efficiency and a single unified interface as a source of leads, activities, and deals.
The Rise of Marketing Automation Platforms
With the growth of inside sales teams, there was increased demand for leads, particularly online-sourced leads, to feed these teams. Pressure rapidly shifted to marketing teams to create more and more leads.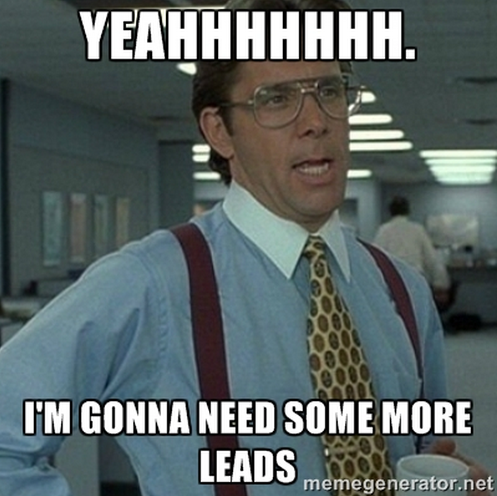 Demand generation teams stepped in to help address this challenge, employing a variety of techniques such as email, newsletters, and events. Over the next few years, demand generation teams and related marketing disciplines faced a similar set of scaling challenges as the sales teams once had:
How do demand generation teams effectively manage marketing-generated leads?
How can marketing operations have a single unified view of all marketing leads and associated marketing activities against those leads?
What's the best way for marketing to measure the effectiveness of their demand generation campaigns?
About seven years later in 2007 or so came another type of platform in the emerging stack: Marketing Automation Platforms (MAP) from vendors such as Eloqua, Marketo, Pardot, Act-On and to some extent, HubSpot, amongst many others.
These platforms allowed marketers to:
Keep a single unified repository of all leads.
Track all digital marketing activities associated with those leads, be it on a website, via email, or through pay-per-click campaigns.
Easily push qualified leads into Sales Force Automation systems.
Suddenly, marketers now had insight, visibility and self-accountability for their lead generation and nurturing campaigns.
The Emergence of the Content Marketing Platform
SFA platforms fuel revenue by tracking and supplying sales opportunities and leads. Marketing Automation Platforms drive SFA by supplying marketing qualified leads. But what drives the marketing activities and leads of Marketing Automation Platforms? Content!
Content is the fundamental currency for marketing automation.
Like a car without gas, marketing automation can't get very far without content.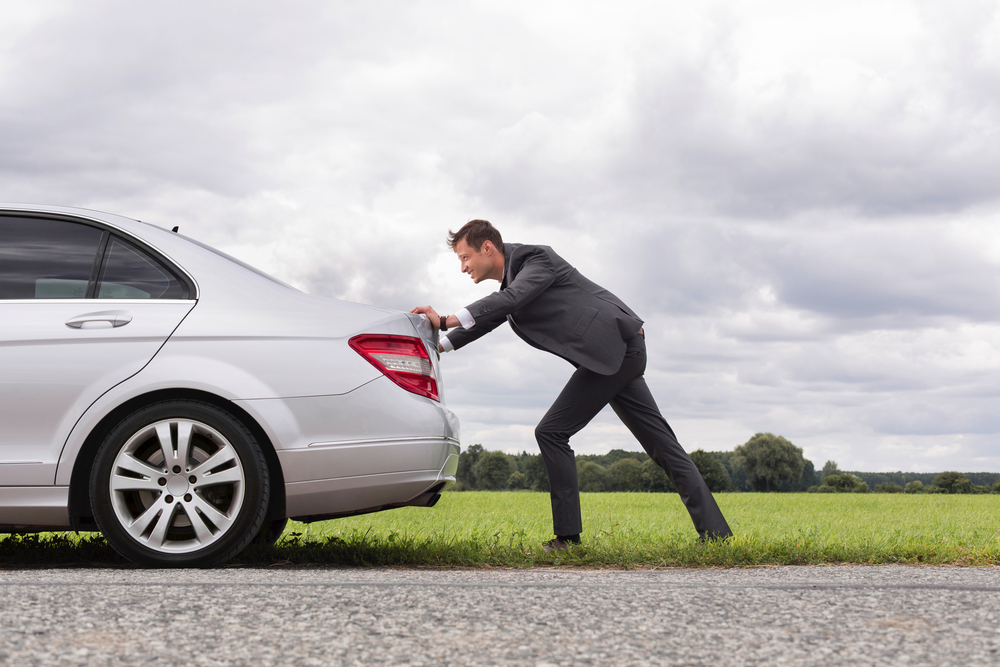 Content is needed for everything from a website (which is tracked by marketing automation), to email campaigns, to even pay-per-click landing page offers.
If not for content, many of marketing automation's key components would cease to function. Drip campaigns come to a halt if there is no content to drip to leads. Lead scoring would stop without content for a lead to browse on a site. With no content, many demand generation campaigns would come to a halt because there would be no enticing offers for many lead capture landing pages.
Content is crucial to the customer acquisition process—so what tools and technologies can support this? There are myriad content marketing tools out there. But there's still a need for a Content Marketing Platform (CMP) that sits on top of the Marketing Automation Platform and Sales Force Automation system. A CMP needs to supply content downstream to generate and nurture leads, that are then converted to opportunities and revenue by sales.
Similar to the pains that demand generation and sales teams have gone through in the past, many of today's content marketers have little accountability and transparency in terms of how their content is performing. Their content and the associated metadata is often warehoused and stored in multiple disparate systems and spreadsheets.
Much like its predecessors, a CMP enables content marketers to:
Have a unified, consolidated view of their entire content supply chain from ideation to production to promotion.
Have top-down visibility on how their content is impacting lead generation and marketing pipeline, and sales pipeline and revenue generation.
With a CMP, content marketing managers suddenly have a data-driven and scalable way of managing their content supply chain and understanding their contribution to business growth.
Where Does a Content Marketing Platform Sit in the Marketing Technology Ecosystem?
The following figure depicts the location of a CMP in the marketing technology ecosystem. There are certainly many other categories and vendors within this ecosystem. However, these are the most important integrations and/or handoffs that need to occur for effective implementation of content marketing.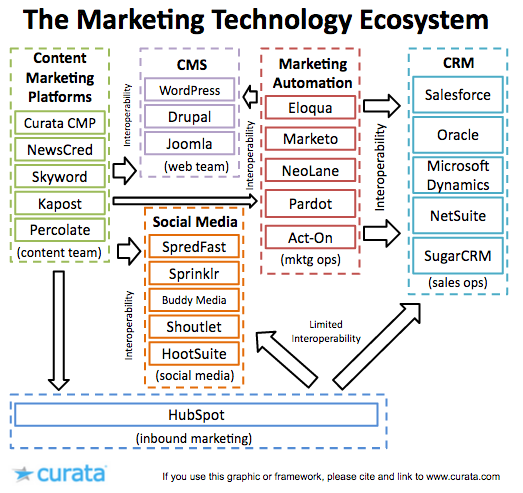 Who Sells a Content Marketing Platform?
You can find a lot of companies that may appear to have Content Marketing Platforms from a cursory view of their website. However, many offer point solutions and are more aptly described as content marketing "software" vendors, and/or don't meet the broader definition provided at the beginning of this post.
We have assembled a list of the current vendors who have begun to solidify the vision of a Content Marketing Platform. Each of the following companies is further defined according to different categories to make it easier to distinguish each company's area of expertise.
B2B Content Marketing Platforms:
Curata CMP
The Curata CMP Content Marketing Platform is designed specifically for B2B marketers to help drive leads and revenue from content. Key components to find in Curata CMP include strategy, production (e.g., calendaring, workflow) and analytics.
Sample customers: Xerox, Lionbridge, RingLead, Yesler, Alcatel-Lucent
Pricing: Starting at $999/month
Kapost
Kapost's Content Marketing Platform allows marketers to collaborate, distribute, and analyze all content types within a single platform.
Sample customers: LeadMD, ThermoFisher Scientific, AT&T, Dun & Bradstreet
Pricing: $3,500/month
Eloqua (formerly Compendium)
This was a startup company acquired by Oracle in 2013. It has now been absorbed into the Oracle Marketing Cloud under the product name Oracle Eloqua Content Marketing.
Sample customers: Eaton, Bass Pro Shops, Indiana University
Pricing: $2,000+/month
B2C Content Marketing Platforms:
Percolate
Percolate is a leading social relationship management platform that also offers unique content management capabilities for large B2C companies.
Sample customers: GE, Unilever, Chobani, Mastercard, Amtrak
Pricing: $5,000/month to $15,000/month
Newscred
NewsCred helps brands manage the entire content marketing process on one platform. By managing content creation, distribution and measurement, it enables vendors to scale and streamline the entire customer experience.
Sample customers: Pepsi, The Hartford, ConAgra Foods, VISA
Pricing:  $2,950/month to $10,500+/month
Services-Oriented Content Marketing Platforms:

These companies by contrast, have a core value with content creation services that they either deliver or field to a marketplace of professionals. On top of the services, they have built content marketing software.
Skyword
Skyword's motto is "Moving Stories. Forward." Skyword provides access to a community of thousands of freelance writers and videographers, an editorial team, and program managers. The Skyword Platform makes it easy to produce, optimize, and promote content to create meaningful, lasting relationships.
Sample customers: New Balance, MasterCard, Stack, GMC
Pricing: Dependent on the volume of writing services needed
Contently
Contently meanwhile, helps you "tell great stories." It helps leading brands build loyal audiences through premium, original content, and also offers software that lets marketers orchestrate content creation, approval, distribution, and measurement.
Sample customers: GE, American Express, IBM, Walmart
Pricing: $3,000 – $25,000 a month
The Future of Content Marketing Technology
The modern practice of content marketing has only recently begun to reach the masses. Organizations are beginning to staff their teams with content marketing experts, and processes are beginning to take shape to better tap into the power of a common focus (and investment) around content. The proliferation of content marketing vendors is therefore due to the many challenges (and opportunities) for marketers. In the future, the Content Marketing Platform will sit in the center of this technology landscape.
This will enable marketers to streamline their processes, and ultimately better scale content operations.
So, where to start? Look within your own organization to pinpoint specific needs. Do you have someone in place to lead content marketing? Have you developed a content marketing strategy in alignment with other parts of your organization? Are you using an editorial calendar to facilitate alignment and to help execute your strategy? Are you quantifying the return on your content marketing investment through more advanced metrics?
To help answer these questions and many more, download our free checklist to start scaling your content operations. This checklist will help you:
Define content marketing and build internal support
Develop a content marketing supply chain
Consolidate and integrate marketing applications

This post was co-written by Michael Gerard.