With more and more marketers increasing their spend on content marketing, (75 percent in 2016!) it's clear that content is making its way to the top of the priority list for many organizations. If you're working on building up your content framework, you already know content marketing eBooks are an excellent way to give your readers a deeper look into any topic. (Creating your first content marketing eBook? Check out the Content Marketing Pyramid to see how to get the most mileage from large pieces of content.)
Curata has created a list of marketing eBooks that take a closer look at various content marketing topics. These top-notch content marketing eBooks will help your organization create, maintain, and improve your content strategy. Don't know where to start with creating infographics? There's an eBook for that!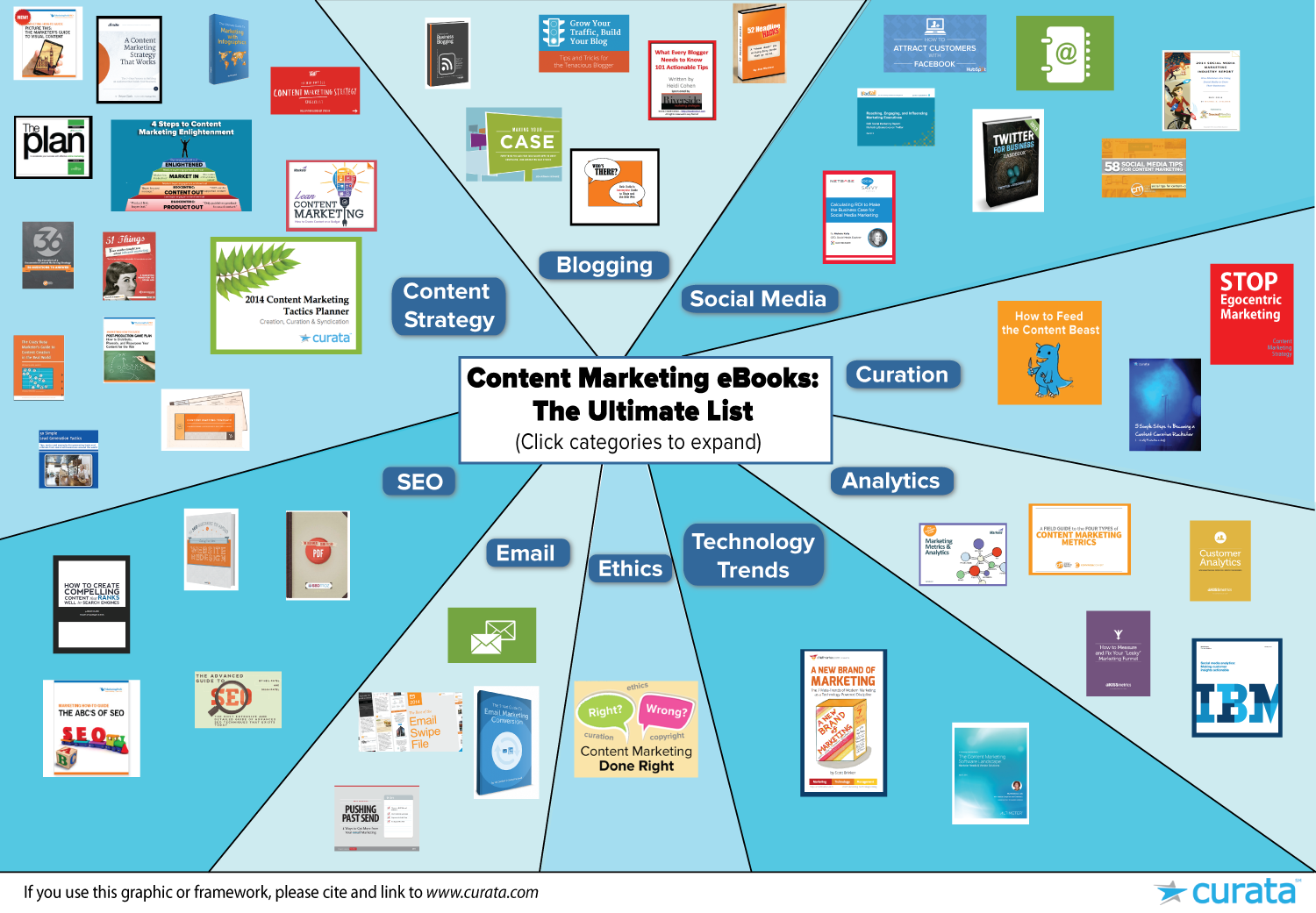 (Click here for the full-size image.)
Know any other great content marketing eBooks that have helped your company succeed? Let us know in the comments below.
CONTENT STRATEGY
The 4 Steps to Content Marketing Enlightenment by Curata
Even with over 70 percent of marketers increasing their content spend this year, few will find success in overcoming content shock. This eBook provides best-in-class tactics and advice on how to become an enlightened content marketer.
Interactive Content Across the Buyer's Journey by Ion Interactive
This eBook drills down into how to use interactive content. It addresses how interactive content can help you create better-educated prospects, and gives an overview of types of interactive content, their uses, and statistics supporting the effectiveness of interactive content.
Inspiring Customers to Create Content for You: A Marketer's Guide by Influitive
Learn how to engage customers to create content for you. This eBook helps you save time and resources by getting customers to create content, increase the reach of content through customer's social networks, and inspire customers to create valuable user generated content (UGC) on third-party websites.
Digital Relevance by Ardath Albee
Digital Relevance teaches readers the knowledge, strategies, and skills needed to create content, instantly engage customers, and compel them to take action by sharing ideas so seamlessly matched to each audience's context that they can't help but take next steps toward purchase.
 A Content Marketing Strategy that Works by Copyblogger
Authority can make or break a content strategy. Find out how to attain thought leadership and provide the highest quality content for your readers with this guide.
 51 Things Your Mother Taught You About Inbound Marketing by Chad Pollitt of Digital Relevance
How does Content Marketing fit into your overall marketing strategy? Find out in this eBook which dives deep into social media marketing, marketing automation, SEO and more.
Everything You Need to Build a Video Marketing Strategy by Vidyard
This video marketing strategy eBook gives a thorough breakdown of why video marketing is integral to your marketing strategy today. Topics covered include: types of videos you'll want to produce throughout the funnel (and their strategic purpose), what a typical video marketing budget looks like (for in-house or outsourced assets), goals, strategy, analytics, and more.
BLOGGING
Grow your Traffic, Build your Blog by The Daily Post (WordPress)
Struggling to build an audience? This guide provides advice and steps to make your content more visible, get more shares, and analyze the effectiveness of posts.
An Introduction to Business Blogging by HubSpot
If you're a blogging novice this is a great asset. Find out how to pick your topic, which content to blog about, optimize posts, promote content, and measure its effectiveness in this eBook.
52 Headline Hacks by Jon Morrow of Boost Blog Traffic
Anyone can write a blog, but what makes one more popular than another? Headlines, for one thing, have a huge impact on whether or not a reader will pay attention to what you've written. Check out this eBook for advice on creating viral content.
Who's There by Seth Godin
Not in love with the idea of blogging or maybe just don't see the value? This eBook aims to convince you otherwise. Check it out to find out how a blog can be a great asset for you and your business.
What Every Blogger Needs to Know: 101 Actionable Tips by Heidi Cohen
Whether you're new to blogging or not, this eBook is sure to have some new and inspiring tips and tactics you can put into action right away. Check it out if you want to give your blog a leg up.
Making Your Case by Jonathan Kranz of Kranz Communications
Want to write a compelling case study? This guide tells you how to highlight your successes and generate leads.
Business Blogging Secrets Revealed by Curata
Dive deep into the tactics of 425+ best-in-class business bloggers to see how they plan, execute, and promote their blog posts.
SOCIAL MEDIA
CURATION
Beginner
Intermediate and Advanced
How to Feed the Content Beast by Curata
As a content marketer, you know that having, fresh, relevant content is the key to your success. But good content takes time. In this eBook, you learn how to balance and blend the two halves of content marketing—creation and curation.
Stop Egocentric Marketing by Curata
Readers want information on a variety of topics from diverse sources, but most marketers publish information in their voice only. This eBook provides insight into how to stop egocentric marketing and publish higher value content for readers.
The Ultimate Guide to Content Curation  by Curata
This 80+ page guide, featuring over 30 marketing experts, teaches you how to create and analyze a content curation program.
ANALYTICS
The Definite Guide to Marketing Metrics and Marketing Analytics by Marketo
This guide gives step-by-step information on how to measure the marketing metrics that matter using examples of Marketo's own strategy. Check it out for help understanding which metrics to look at and how to interpret them.
The Marketing Landscape: Where Data and Content Merge by DiscoverOrg
This eBook includes information on the importance of market intelligence data, an optimized content creation process, and using account-based data. Use this eBook for a clear idea of why intelligent data is valuable and important to content marketing.
Social Media Analytics—Making Customer Insights Actionable by IBM
This report aims to help readers interpret social data so they can improve their strategies through consumer insights. Need help understanding consumer trends and your social impact? Give this one a read.
How to Measure and Fix your "Leaky" Marketing Funnel by KISSmetrics
Stuck on the marketing funnel? The best way to start improving your funnel is to measure it—then make the necessary adjustments. Download this eBook for advice on where to start.
Customer Analytics by KISSmetrics
People are the key to discovering what will improve your business. Find out how to cut through the noise surrounding your data and discover actionable insights about customers in this eBook.
A Field Guide to the 4 types of Content Marketing Metrics by Jay Baer of Convince and Convert
This eBook outlines 4 key categories of metrics that marketers can use to measure the success of their content.
The Comprehensive Guide to Content Marketing Analytics & Metrics by Curata
This eBook offers a comprehensive guide to the metrics that ensure your content marketing initiatives are effective and driving key business outcomes. As part of the journey, hear from over 20 of today's top marketing experts on what they believe to be the most important content marketing metric.
The ROI of Great Content by Acrolinx
This guide promises to teach you how to double the impact of your content strategy. Acrolinx conducted a global survey to address the impact of quality on content marketing. It looks at how quality content impacts all aspects of marketing from brand to search traffic and beyond.
TECHNOLOGY TRENDS
ETHICS
Content Marketing Done Right by Curata
Curated content means increased value for readers, improved thought leadership, and consistent, relevant content. If not done ethically it could do your business harm. Find out how to curate ethically in this eBook.
EMAIL
An Introduction to Email Marketing by HubSpot
Great for beginners to create an email marketing foundation. This eBook includes the best practices for email as a roadmap to your email marketing success, and covers top challenges email marketers face and how to solve them
The Ultimate Guide to Email Marketing by Zapier
The eBook includes tips on the apps you should use to send every type of business email, along with ways you can integrate your email apps with other tools you're already using, guidelines to make your emails great, and more.
The Smart Guide to Email Marketing Conversion by Unbounce
This eBook guides marketers on how they can amp up their email campaigns with targeted landing pages to increase conversions, grow subscriber lists and improve effectiveness.
SEO
Know of any other content marketing eBooks that provide valuable content marketing insights? Let us know in the comments!
For more ways to bolster your content strategy and benchmark your own content marketing efforts, download Curata's 2016 Content Marketing Staffing & Tactics Study eBook.