Being in charge of content marketing can feel like you're trying to simultaneously conduct an orchestra, host a wedding, and put on a broadway show. A documented content strategy is vital to keeping it all together according to the 2017 CMI/MarketingProfs B2B Marketing Benchmark report. It shows marketers with a documented content strategy are much more effective than those who do not document their strategy.
Enter Curata's Content Marketing Pyramid™, a strategic framework enabling you to execute a content campaign, assuring optimal content consumption, reuse, and reach.
This hands-on guide teaches you what the Content Marketing Pyramid is, why it works, and how you can implement it within your organization.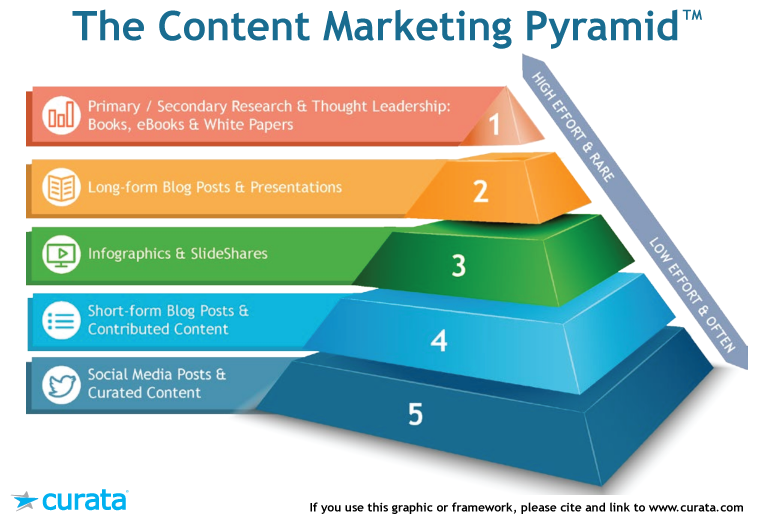 Why Use the Content Marketing Pyramid?
In addition to providing a documented content strategy, the Content Marketing Pyramid:
Improves your focus with an organized strategy that establishes clear goals and priorities
Increases your production capacity by making more efficient use of valuable resources
Creates a predictable stream of successful content to engage your buyers and drive pipeline activity for marketing and sales

According to the 2017 CMI/MarketingProfs B2B Marketing Benchmark report, 60 percent of those with a documented strategy rate themselves highly in terms of content marketing effectiveness. This compares with 32 percent of those who have a verbal strategy. The Content Marketing Pyramid alleviates many headaches from ineffective content marketing. But if you operate without a smart framework it leaves you susceptible to the following consequences:
Chaos
You may be dealing with departments that operate in silos, a content strategy with no documented objectives, and a lack of communication between content creators.
How the Content Marketing Pyramid Can Help: This framework documents, centralizes, and coordinates all your content marketing efforts.
A Fractured Customer Experience
Readers experience inconsistent messaging and disconnected touch points. This leads to a lack of brand loyalty and dissatisfaction.

How the Content Marketing Pyramid Can Help: The Content Marketing Pyramid lends itself to cohesive messaging and centralized information.


Waste
Because of the chaos and lack of communication, you're constantly reinventing the wheel. When there's little documentation, it's easy to recreate similar pieces of content, instead of simply reusing or repurposing existing content.
How the Content Marketing Pyramid Can Help: This framework eliminates waste by streamlining the internal development process and ensuring every piece of content performs multiple roles across a variety of formats and channels.
Even if you aren't experiencing any of the aforementioned consequences, content marketing is only about to get more competitive—and challenging. Take these stats for example:
70 percent of B2B marketers expect to create more content in 2017 versus last year, and 39 percent plan to increase their content marketing spend over the next 12 months. [CMI/MarketingProfs]
In 2016, 42 percent of companies had an executive in their organization who was directly responsible for an overall content marketing strategy [Curata 2016 Content Marketing Tactics and Technology Study]
Since most marketers don't have an unlimited budget, the best way to compete is to find ways to extend the budget and resources we already have. By implementing a strategic plan, you can create more effective content, enabling you to do more with less.
Start With Overall Content Strategy
Before we get down to the granular level of a content marketing pyramid—which is used to plan and execute a single content campaign—let's zoom out a bit. Campaigns are byproducts of a larger strategy. We recommend developing your strategy on an annual basis and updating it quarterly to readjust for any changes in the marketplace or to your business.

It is important to remember your strategy is not driven by content: It's driven by what you want to achieve with your content. The most successful teams ensure their content strategy aligns with their organization's goals, and their CMO's and related team's goals. Here's a helpful framework to form your strategy: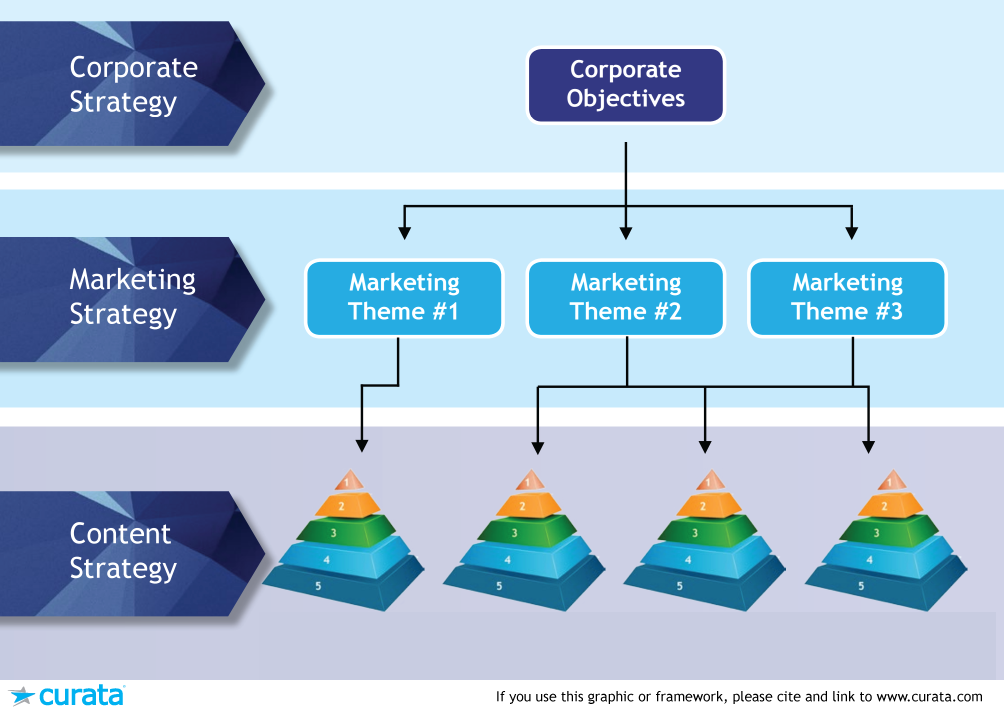 Corporate Objectives
Start with the top-level company goals your company's leadership team defines. These serve as the basis of your marketing organization's strategic direction.
Examples of top-level corporate objectives include:
Increase share of mobile market

Break into new geographic or demographic market

Displace a competitor

Establish [company] as a leader in [topic]
Marketing Themes
With the corporate objectives in place, set specific marketing themes to support them. Usually there are two to four global themes set by marketing leadership, each one focusing on key concepts, messages, and areas of corporate objectives.
For instance, if a corporate objective is to increase your company's share of the mobile market, examples of marketing themes include:
Empowering the mobile workforce

Innovations in mobile

Defining the mobile value proposition for businesses
Once you've established the themes, you can begin creating a content strategy through Content Marketing Pyramids. The next section is a deep dive into the anatomy and importance of these pyramids.
What is the Content Marketing Pyramid?
Curata defines the Content Marketing Pyramid as:
The development of content and related assets intended to reinforces common messages/themes through multiple content formats, distribution methods and promotion channels across owned, earned, and paid media.
Each pyramid relies on Core Content. This is the heaviest, most valuable asset, consisting of thought leadership, primary research, and/or secondary research. The Core Content begats corresponding Derivative Assets and Promotional Micro-Content.
These highly intentional and focused content marketing activities and interactions help you move the needle on the big goals, from awareness building to lead generation to sales enablement.
The Content Marketing Pyramid: A Structural Overview
The Content Marketing Pyramid consists of five levels of content, organized into three main parts: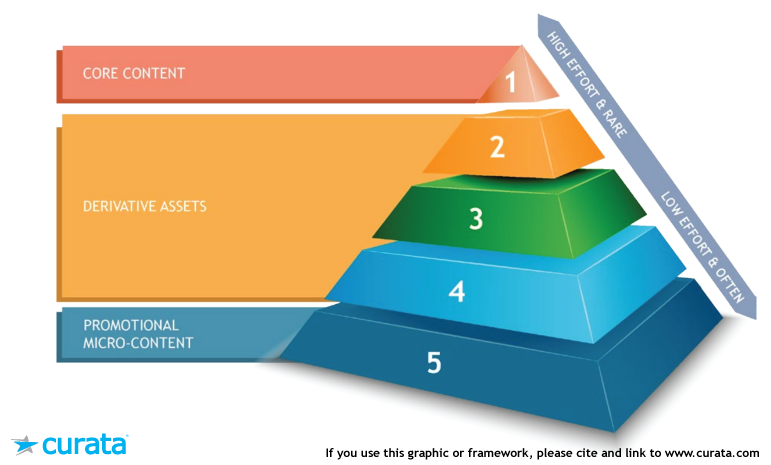 Level 1: Core Content
Core content is substantive, original content that involves research and/or deep insight. Use this primary research and thought leadership to create additional assets. These can include print books, eBooks, and guides that provide an in-depth exploration of the source material.
Such assets are the source material for the remaining assets in the Pyramid and are typically gated. All remaining assets in the Pyramid should drive your audience to this core asset and capture a lead.

Level 2, 3 and 4: Derivative Assets
Assets derived from Core Content make up the middle of the pyramid. They take chunks of information from the Core Content to create more focused and precise pieces. They are more accessible and produced in a variety of formats, such as:
Long form blog posts, presentations, infographics and SlideShares (Level 2 and Level 3)
This content is usually not gated. Content from these levels should engage your audience and lead them to the gated, Level 1 content.
Blog posts and contributed content (Level 4)
Produce Level 4 content more frequently and routinely than Level 2 and 3 content. It should become a part of the weekly, if not daily, content production process. This content provides a different kind of anchor for your content strategy. It is the "bread and butter" of your content marketing. Blog posts are most common, but don't ignore contributed content or bylines, a.k.a. guest posting on other blogs. Contributed content is key to spreading your message beyond the parameters of your owned media properties, improving your SEO ranking via backlinks, and to drive new readers back to your Core Content to generate leads.
Level 5: Promotional Micro-Content
Finally, at the base of the Content Marketing Pyramid is promotional and conversational micro-content. Level 5 content helps build awareness for, increase consumption of, and facilitate conversation about all your other content. Level 5 includes social media posts and curated content. For more information on curating content, take a look at Curata's Ultimate Guide to Content Curation.
Here's a table further clarifying the differences and similarities between each level of the pyramid: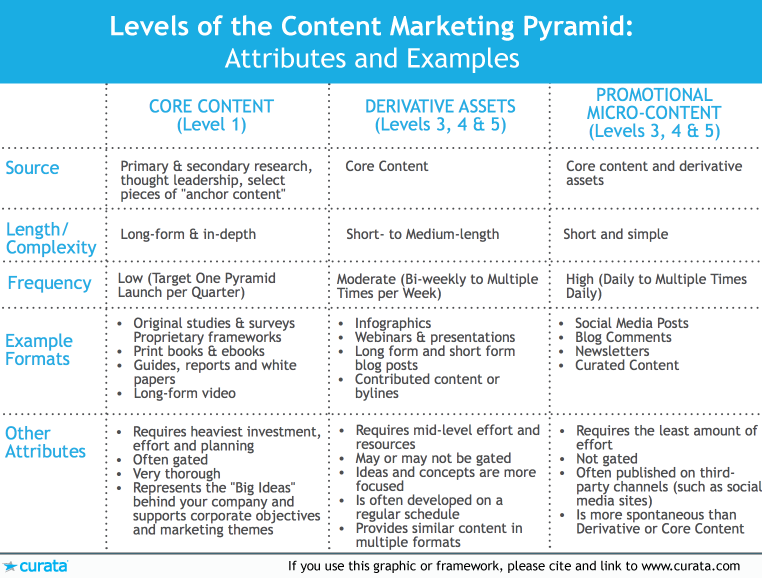 9 Benefits of the Content Marketing Pyramid
Not convinced yet by the Content Marketing Pyramid? Here are NINE benefits that will optimize the impact of your content marketing efforts, from awareness building to demand generation to sales enablement.

1. Unified Content Objectives.
One of the main purposes of the Content Marketing Pyramid is to align all content around corporate objectives and marketing themes. This framework helps share the strategy across all departments so everyone works towards the same goals and uses the same playbook for content creation.
2. Message Repetition
Marketing themes are most effective when they show the buyer a consistent message via multiple touch points. The Content Marketing Pyramid facilitates intentional repetition of key marketing messages across multiple channels.
3. Content Saturation

The most effective content marketing programs extend far beyond owned properties by distributing to earned and paid media channels. This framework allows you to repurpose existing content to fit these specific channels.
4. Format Diversity
While some people in your target audience may prefer learning by reading an in-depth blog post, others may be able to absorb content better via an interactive webinar or a podcast they can listen to on-the-go. The Pyramid encourages you to create multiple different content formats.

5. Flexible Content Creation: Top to Bottom or Bottom to Top
Although the levels are the same across all Content Pyramids, which level you start from can vary depending on the specific circumstance. For example, you might begin your Pyramid with the development of a cornerstone research study (Level 1 Core Content) that you break down and repurpose into Derivative Assets and Promotional Micro-Content. Alternatively, some particularly insightful comments on a blog post or conversation on social media may inspire you to build up from the bottom of the Pyramid.
One of Curata's most successful pyramids began as a long-form blog post and then expanded to cover all levels of the pyramid (The Comprehensive Guide to Content Marketing Analytics and Metrics). Of course, there are pros and cons to both the top-down and bottom-up methods:
6. On-the Fly Content Maneuvers
This framework allows you to take full advantage of unexpected content opportunities, such as newsjacking, event-related content, and jumping into spontaneous industry conversations. Such random acts can inspire entirely new Pyramids. You can also insert them into existing Pyramids.
7. Balanced Content Mix
The Content Marketing Pyramid also makes it easy to adhere to best practices for balancing all the different types of content. Using this framework, you can efficiently plan the right ratio of:
Created vs. curated content (65 percent created and 25 percent curated, according to Curata's study)
High effort vs. low effort
Owned vs. earned vs. paid media
8. Operational Efficiency
Use this framework to streamline and empower your internal operations by:
Aligning all your content marketing activities with clear corporate objectives
Providing both a long-term road map and a short-term operational plan for content development and distribution
Unifying all your efforts and teams around a central content strategy and process
Reducing lags and inefficiencies in your workflow
Requiring the identification of clear and measurable goals and objectives
Giving you a way to assign value to and measure the performance of each piece of content within a campaign
9. The Ultimate Reward of the Pyramid: Pipeline Impact
When you build out your content campaigns according to this framework, you create an upside down funnel that draws people in and drive them up from Level 5 to Level 1. At Level 1 you ask for their contact information for them to gain access to key pieces of Core Content. This generates new leads and new opportunities for your sales pipeline.

Getting Started with the Content Marketing Pyramid
Step 1: Appoint a Leader
Pyramids require many people to be involved, but it's crucial that a single individual is responsible for developing overall strategy. Curata's Content Marketing Tactics and Technology study says that only 42 percent of companies have a content marketing executive who would likely be a candidate for taking on this critical role. 
Step 2: Build Support for the Pyramid Across Your Organization
Once you've established a lead, you can solicit support and feedback from the key departments in your organization. This could include the CMO, product marketing team, digital marketing group, social media team and overall marketing operations leadership.
Step 3: Establish Your Content Marketing Pyramid Workflow
The Content Marketing Pyramid workflow is a four-part cycle including: Strategy, Production, Distribution and Analytics. Below is a high-level overview of each step. These steps can be completed across multiple applications or through a single content marketing platform such as Curata CMP.
Pyramid Measurement
Operational Metrics: Introducing Pyramid Points
One of the main goals of the Content Marketing Pyramid is to optimize how you reuse and repurpose your content. Why? To maximize the pipeline impact of your content.
However, determining when and if you've created enough derivative content within a pyramid can be difficult. You may be wondering if there's more you can get out of a specific eBook. To solve this problem, Curata developed the concept of 'Pyramid Points' to track and optimize the execution of your pyramids.
Pyramid points are a set number of points that roughly represent the effort needed to complete each content asset. Using pyramid points ensures you extract the utmost use from each pyramid, and helps you keep track of the progress or status of each pyramid. Here is how we weight each of our assets:
A typical content marketing pyramid may run for three to six months. If you start one pyramid a quarter, you may have up to four pyramids running at once. Use the pyramid points above to help you track how well you've repurposed a pyramid's original content.
This helps you decide which pyramids to allocate resources towards. Here is a template and example of how to measure pyramid points and determine the overall progress of your pyramid. (This pyramid is 73 percent complete. You could invest more resources in completing this pyramid.)
Performance Metrics: Pyramids in Action
Pyramid points aid in the execution of operational metrics. The real excitement begins when you can determine how well your overall pyramid performed.
Based on a framework from The Comprehensive Guide to Content Marketing Analytics and Metrics, you should evaluate your pyramid across three dimensions:
Top of the Funnel (e.g. social media, page views, retention)
Middle of the Funnel (e.g. leads generated and touched)
Bottom of the Funnel (e.g. sales opportunities generated and touched; revenue influenced)
Analyzing the performance of different pyramids can help answer the following types of questions:
What impact has a pyramid made on your company's revenue pipeline? Website traffic? Social media efforts?
Which types of pyramids (and related content) perform well at the top, middle and bottom of the funnel?
Why is a particular pyramid underperforming (or outperforming) other pyramids?
Where to Go From Here
Content marketing is a long-term play with the potential to deliver a substantial return on your investment if you can build a smart content strategy and execute against it efficiently. Start by forming your corporate objectives and marketing themes, then take a first stab at planning and executing a Content Marketing Pyramid. We believe it can help take your content marketing practice to the next level, with a sense of confidence and ease you never thought possible.
For an even more in-depth set of instructions, be sure to download the complete 70+ page eBook on content strategy, The Content Marketing Pyramid.
This post was co-written by Curata's former CMO, Michael Gerard.