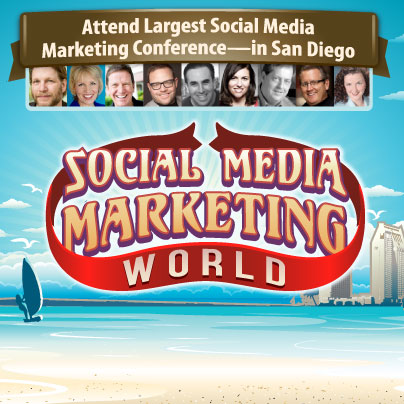 Marketers from all over the world, including our very own CMO, Michael Gerard, are heading to San Diego on March 26th for the kick-off of Social Media Marketing World. The event, scheduled to include presentations by social media experts from March 27th to the 28th, is hosted by Social Media Examiner.
We had the opportunity to interview Phil Mershon, Social Media Examiner's Director of Events. He filled us in on what content marketers can expect at the event this year, including not-to-miss sessions and additional information on content marketing meet-ups.
Can you provide a brief overview of the event?
Social Media Marketing World is the world's largest pure play social media conference for marketers and business owners. We expect up to 2000 marketers from all over the world (currently 13% of attendees are international and a full 10% from outside of North America) this year. The conference features extensive networking opportunities, including two evening events plus purposeful networking breaks in the mornings and at lunch on Thursday and Friday. Additionally, the conference will have over 80 content-filled sessions covering a wide range of social media related topics–all being packed with actionable tips and strategies delivered by over 120 of the leading experts in the field.
What impact has content marketing had on your agenda this year?
Content Marketing is one of 4 primary tracks at the event, the same as last year. The other tracks are Social Tactics, Social Strategy and Community Management / Business Building. The Content Marketing track will review content creation and various strategies and tactics that marketers can implement into their own organizations.
How do you draw the line between what is content marketing vs. social media marketing?
The content marketing sessions focus on the creation of content you own via blogging, video, and podcasting. In contrast the social media sessions focus on how to use the various social media channels to market your business. That could include the sharing of content you own or content created specifically for those channels (Facebook, Twitter, LinkedIn, etc…). Content marketing and social media marketing form a symbiotic relationship that cannot be separated in practice, but can be understood independently.
What are the 3 most important sessions that you'd recommend as "not to miss" for content marketers attending the event?
There are many great sessions available for content marketers. I recommend searching the agenda here. In addition to Marcus Sheridan's closing keynote, which no one should miss, three must-see track sessions are:
1. 5 Content Marketing Practices that Most Businesses Ignore, but Shouldn't by Joe Pulizzi
2. Build Your Own Media Empire: Here's How by Chris Brogan
3. How to Build a Multi-Author Blog For More Visibility and Sales by Denise Wakeman with Brian Clark and Michael Stelzner
Do you have any other plans in place to facilitate meet-ups for content marketers during the event?
We plan to have Interest Group lunches on Friday about several topics content marketers might appreciate: podcasting, blogging and video marketing. We also will have Table Talk conversations on Thursday at lunch on many different topics that will pertain to the interests and goals of content marketers.
Want more information on Social Media Marketing World? Check out their site or watch the video below.
Sign up for Social Media Marketing World 2014 and connect with Phil Mershon on Twitter to stay up to date on event information. If you'd like to discuss content marketing during the event, connect with Michael Gerard and start the conversation on what content strategy and tactics you're planning for this year.
Planning on attending more events in 2014? Check out Content Marketing Events 2014: The Ultimate List.