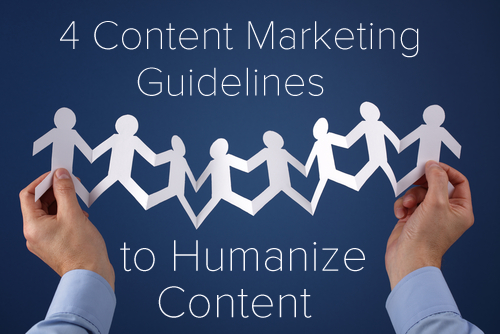 Content marketing – either through blogging, newsletters, social media or microsites – is growing in popularity for a reason. The results of our most recent study show that 71% of marketers are planning to increase their content marketing spend this year, as 76% of survey takers saw an increase in buyer engagement and 62% saw an increase in lead quality.
Even with this surge in content marketing, however, not all marketers understand how to leverage content. Content for readers cannot just be repurposed internal assets, consist of only your brand's opinions or be rephrased material from other sources in your industry. Successful content must be relatable for your audience.
Enlightened content marketers know how to humanize their content by publishing thought leadership pieces, curating from third-party sources and finding inspiration for new created content from their customers. Always remember to write for people – not search engines.
My advice to getting the most out of your content strategy is to follow these four guidelines.
1. Develop a Content Workflow
If you don't already have a company blog, start with a free blogging tool such as WordPress. Then set up your editorial calendar as the basic framework of your content marketing workflow. An editorial calendar is perhaps the most important aspect of your content marketing strategy as it will answer the following questions:
What topics are we writing about and when?

Why are we focusing on these topics? (Are they part of a larger content initiative, such as an eBook campaign?)

Who is writing each piece? Who is editing and publishing each piece?

When is the draft due? When are the edits due? What is the posting date?

Where is this content being posted?

How and where are we going to promote this piece of content once it's published?
Once you get your blogging strategy down, here are some key content marketing tactics to pursue:
Perform (and leverage) your own primary research to establish thought leadership

Turn your research into eBooks, webinars and whitepapers

Implement the Content Marketing Pyramid into your strategy to get the most out of each piece of content

Make sure to market your marketing and distribute it to appropriate channels, as well as measure the impact of each piece of content

Attend industry events and push for speaking engagements

Create engaging, digestible content with infographics and videos

Establish relationships with reputable publishers in your industry and push your content out to these sites

Curate content from credible third-party sources to support your created content strategy, save time & money and provide a valuable variety of information for your readers

Utilize social media platforms to promote and distribute content
It's important that content has it's own department, or at least it's own executive, within your organization. Forty-three percent of organizations already have a content marketing executive in place to facilitate the ideation, creation, promotion/distribution and analysis process. Content marketing is no part-time job and requires a dedicated team of coordinators, managers and writers.
2. Writing for People, not Search Engine Bots
Many marketers believe that quantity, not quality, is factored more heavily into search engine ranking. This is not the case. Although optimizing for search is important, keyword stuffing and misleading titles for clicks could be potentially damaging to your brand's reputation as a trusted source.
The most effective content marketers write for quality, not quantity. This means writing for customers, not for search engine bots. Search visibility and traffic will come with high quality, valuable posts that seek to inform readers. Become a trustworthy source of information on your topic, and readers will be more likely to read and share your content.
Keep the interests and goals of your readers in mind when you publish content in order to provide as much value as possible. Performance metrics are important, but they must be taken into consideration in parallel with quality during the content development process. Plan titles, inbound & outbound links and promotion & distribution methods ahead of time. This will ensure that content meets your readers' standards as well as your campaign goals.
3. Drop the Ego
Even with the best intentions of providing content of value to buyers, many marketers are communicating with audiences in their voice only. As knowledgeable as your organization is on your topic, readers want to hear from other credible sources. If you're not publishing a diversity of information, potential buyers are going to look elsewhere. Variety means value.
Egocentric marketing can be cured with content curation. Content curation is when an individual (or team) consistently finds, organizes, annotates and shares the most relevant and highest quality digital content on a specific topic for their target market.
Curating content from reputable third-party sources gives readers diversity in perspectives. Publishing curated content alongside your created content will make your organization a go-to source of information – as well as lightening up your marketing budget and the creation load on your writers. Best-in-class marketers employ a content mix of 65% created, 25% curated and 10% syndicated.
4. Create Value & Build a Connection
Technology
Our recent Content Marketing Tactics study found that marketers are naming their top content challenges as limited staff, limited budget and creating enough content. If your organization doesn't have the budget or resources to fill these needs, there are still plenty of ways to create value for customers and potential buyers with content marketing.
Utilize content marketing specific technology to publish high quality content consistently even with a small marketing team and matching budget. Content curation platforms allow users to publish content consistently in a fraction of the time it would take one of your writers to create an original post – and a fraction of the cost it would be to hire an in-house writer or freelancer to create content.
Content management solutions keep your workflow organized so small teams can efficiently push content out the door, and marketing automation platforms & social management tools give small marketing teams a major leg up when it comes to keeping track of leads, assets and your online community.
Inspiration & Ideation
Readers want diversity and fresh content on a consistent basis. Running out of ideas? Draw inspiration for new created content by listening to and following your audience. Read and interact with their comments and social posts. What types of content are they looking for? What are their challenges? Seek to provide information that addresses their needs, helps them overcome challenges and guides them through the buyer's journey. Switch it up in terms of format as well. Some readers may be more visual learners – create infographics and presentations.
Tap into your marketing and sales teams for inspiration as well. Even though they may not be a part of the content development team, they're speaking to customers on a daily basis. Crowdsource ideas from across your organization. This will strengthen your connection with customers and allow your content to resonate with their interests.
Practice Selective & Ethical Curation
Build a connection with your audience by hand-picking only the most relevant, high quality articles to curate. Publish only information that pertains to what your readers are looking for. Always be sure to annotate it with your own insights and opinions as well. Never simply regurgitate common market insight and opinion.
Enlightened marketers contextualize all content that they hand-select for readers by adding commentary, insights or opinions to the curated piece. In many cases, curated pieces with these added annotations are more valuable than the original article. This helps establish thought leadership in your industry and provides new information for your audience.
Not only is annotating content an enlightened marketer practice, but retitling curated pieces, using thumbnail images and making sure your commentary is longer than the quoted segment of the article are all ethical best practices. Ethical content marketing is essential for a successful content strategy as it will establish trust with readers, peers and help boost your search engine rank.
When you have the right strategy in place and employ the necessary tactics to relate to your audience, content marketing is the most effective way to reach readers and drive leads. Looking to get started on the path to content marketing enlightenment, or need some more tips on how to attain it? Download our latest eBook, The 4 Steps to Content Marketing Enlightenment or request a free demo of Curata.