For the past five years, content marketing hasn't stopped growing. Driving that popularity is content marketing's effectiveness at delivering results for companies. So which content marketing trends are shaping 2017?
According to the Aberdeen Group, content marketing leaders experience 7.8 times higher year-over-year growth in unique site traffic. What's more, content marketing costs 62 percent less than outbound marketing, while generating more than 300 percent more leads. And companies that adopt content marketing get six times higher conversion rates than their competitors.
One of the biggest problems content marketing has these days? Saturation.
According to the Content Marketing Institute, the three most commonly used tactics by B2B marketers are social media content, case studies, and blogs. Most companies are implementing these tactics, which means it's getting harder and harder to differentiate to grow your business.
This year however, we have seen the arrival of new content marketing trends that are changing the way content marketing works.
Next you will learn five content marketing trends that could help you gain the edge on your competition.
Live Video, A.K.A. Streaming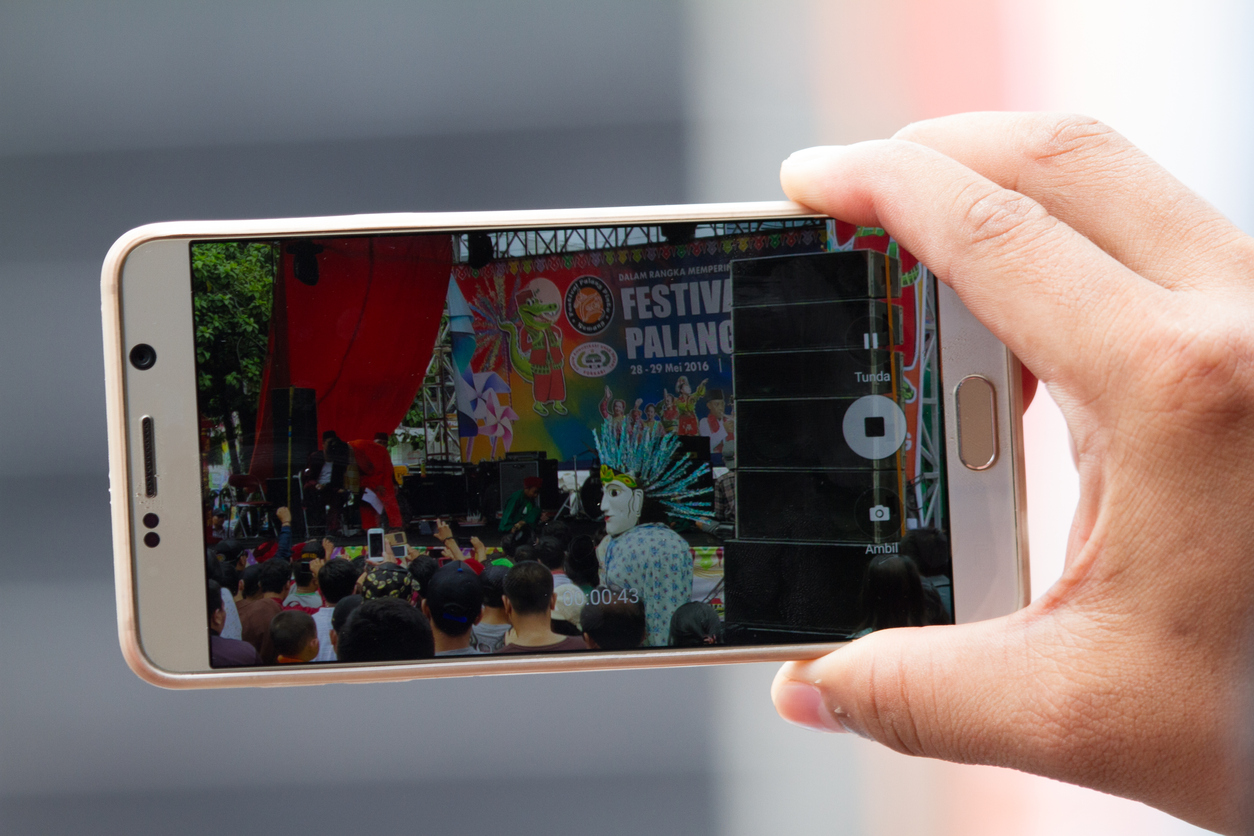 Video marketing is by far one of the most effective marketing tactics.
According to Wordstream, video attracts two to three times as many monthly visitors as other types of content. Video can also help increase organic traffic by 157 percent. And that's not all.
The Aberdeen Group found that companies which use videos in their marketing enjoy 27 percent higher click through rates (CTR) and 34 percent higher web conversion rates [pdf] than those which don't. Wyzowl found 77 percent of consumers say they've been convinced to buy a product or service by watching a video.
Despite these benefits, video marketing has one big problem: it can be hard to create. Buffer, the social media scheduling company, found that 43 percent of marketers said they would create more video content if obstacles like time, resources, and budget were reduced.
However, thanks to companies such as Snapchat, Facebook, and Instagram, marketers can now easily create and publish video content without incurring the costs previously associated with it. It's the reason why video is one of the content marketing trends of 2017.
Video is Easier Than it Used to Be
With Snapchat's launch of Stories in October 2013, it allowed users to send photos or videos directly into their feed for all their friends to see. At first glance, Stories may not look very interesting for companies. Snapchat is a social app used mostly by young people.
But companies using Snapchat have achieved great results from it. Snapchat users watch over 10 billion videos every day. Somewhere between 10 and 20 million people watch Stories each day. Snapchat Stories represent an incredible opportunity for companies to showcase themselves and their offerings.
Soon after Snapchat launched its Stories feature, Instagram, Facebook, and even Whatsapp followed in their steps. In 2017, live video streaming has become a big part of the content marketing strategy of any business.
Take a look at the following example from Cisco. They are one of the largest IT and networking companies in the world—not the most famous industry for using social media. Despite this, they pull off great work in their Snapchat channel.
Setting up and recording a regular video is complex. Live video however, allows you to stream a message using an Internet connection and a smartphone with a camera that can shoot in HD quality.
The Advantages of Live Video
Live streaming is a powerful content marketing tactic because of transparency. People love brands that are real; brands that talk, act, and look like them. They want to know what's happening behind the scenes, how brands actually are when others are not around. People want to feel as if they are having a one-on-one interaction with the brands they like.
You can use live streaming to educate your followers. Each interaction with them is an opportunity for your company to help, and to show them what your company is all about. This education happens in real-time. Instead of waiting for a solution, you can proactively talk to your followers in a personal and relatable way.
Video interaction doesn't have to just be unilateral either. You can use live streaming to get real-time feedback from your followers, furthering engagement.
Live streaming is also becoming popular because it helps create a feeling of community. You aren't just communicating with your followers—they are also talking to each other. This takes the idea of social communications to the next level. Brands interact with their customers, and their customers interact with each other. Since a community is not something you can artificially create, this can be a big win for your company.
Furthermore, if you want to use a live stream later, you can easily record it and play it back to make it into a conventional video.
The power of live videos is only just starting to be harnessed. In 2016, only 14 percent of marketers had used live videos. In 2017, 50 percent of marketers plan on using them.
User Generated Content
One of the secrets of successful content marketing is trust. That's what marketing is all about. A company messages people, and if they trust the message, they will follow the company. But how do you build trust when there are so many ads out there?
Here's an interesting fact:
According to AdWeek, 85 percent of people trust content made by others more than they trust brands' content.
In other words, you can more effectively convince new people to trust your company by using content created by customers, rather than using your own content.
The good news is there's a marketing tactic to help you achieve this: user generated content. (It's one of those content marketing trends to be careful with though: it can backfire if not used carefully.)
User generated content is all the content your customers create to talk about your company. This can include social shares, reviews, comments, videos, and more. Such content transforms customers into micro advertisements—ads that others trust more than 'real' ads.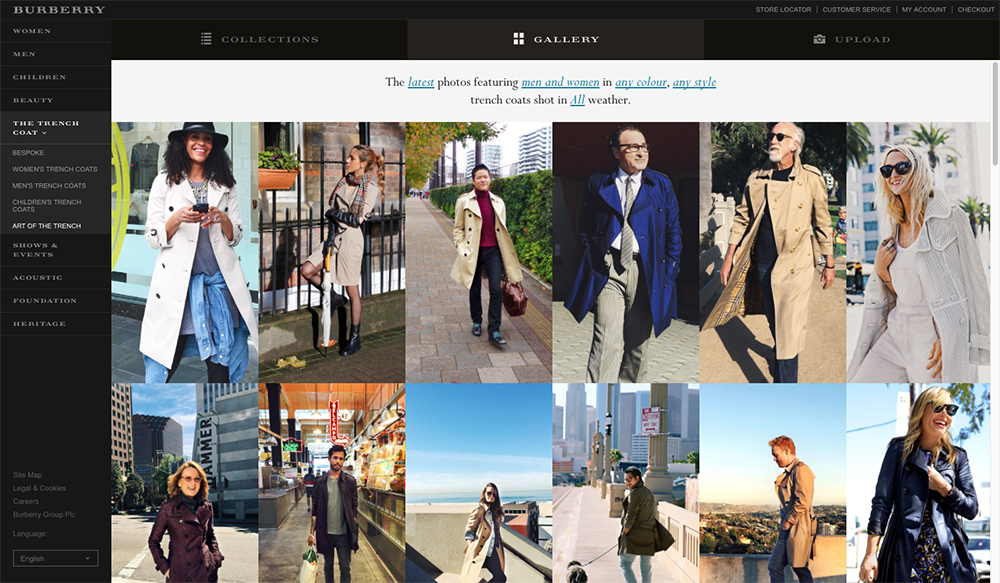 In 2009 Iconic British fashion company Burberry launched The Art of the Trench, a website where users can upload and comment on pictures of people wearing Burberry products. Thanks in part to that initiative, Burberry grew their ecommerce sales by 50 percent year-over-year.
Some ways you can leverage user generated content (UGC, for short) to grow your company include:
Incentivize customers to write reviews and include photos or videos. This works not only for social proof, but to create a community-like experience around your company.
Stimulate both online and offline word-of-mouth. If you give your customers a flawless shopping experience and make your products valuable to their problems, that will increase the probability of your customers becoming evangelists for your brand. This is free and highly valuable marketing.
Participate in social media. This goes without saying, but if you want to make your shopping experience social, be social. Open an account in at least one social network, and actively participate in it. Talk to your customers, answer their questions, create valuable content.
Augmented and Virtual Reality
A few years ago, augmented and virtual reality sounded like futuristic technologies that seemed amazing but belonged firmly in the realm of science fiction.
In 2017, it's now possible for companies to use both augmented and virtual reality, making them two of the content marketing trends of the year.
As you may know, augmented reality technology (also known as "AR") allows digital content, like video, text, or images, to be superimposed over a view of the real world. Virtual reality (also known as "VR"), shows digital content in a fully-immersive headset. These technologies allow brands to showcase new content that can change the way their audience experiences the world.
According to a study done by Digi-Capital, the AR/VR market could hit $150 billion in revenue by 2020. AR is set to take the majority of the pie with a share of $120 billion, with VR getting $30 billion.
In this context, VR could be great for games and 3D films, while AR could be a game-changer for content marketers. "AR has the potential to play the same role in our lives as mobile phones with hundreds of millions of users," says Digi-Capital managing director Tim Merel. "You could wear it anywhere and do anything."
There are many ways content marketers can use AR, including:
Augmented reality ecommerce
Voice calls
Web browsing
Apps for both enterprise and consumers
Advertising
Games
British retail giant Tesco used augmented reality to help website visitors visualize Tesco's key products in their own home with an augmented version of their Home Book catalog.
Personalization
All successful marketing campaigns have one thing in common: they were relevant to the target audience. Crafting a relevant marketing message is therefore one of the most important aspects of any marketing campaign. To do that, marketers must understand what people care about, and then create an ad people want to see. The more relevant, the better.
With the amount of data marketing tools collect, marketers can create more relevant and successful marketing messages through personalization, one of this year's top content marketing trends. With personalized content, consumers better remember a brand, which then creates a positive feedback loop.
According to the IBM Digital Experience Survey, 56 percent of marketers believe that personalized content promotes higher engagement rates. A study done by Demand Metric [pdf] found that 80 percent of marketers say personalized content is more effective than non-personalized content.
There are multiple ways marketers can use personalized content. The following research from Forrester Consulting and Persado shows the most common ways content marketers use personalized content:
The results from personalized content are persuasive. Research by OneSpot shows 87 percent of consumers believe personalized branded content positively influences how they feel about a brand. In that study, 72 percent of the consumers surveyed believe companies that deliver relevant personalized content consumers are more relevant themselves. This drives even further positive perceptions of the brand. And 60 percent of consumers feel a stronger connection with the brand thanks to the content's relevance.
The results of such studies are driving marketers to invest in personalization. According to a study by Evergage, 96 percent of marketers will maintain or increase investment in personalization this year. Meanwhile, 73 percent believe personalization should be a higher priority in their companies than it currently is. It's one of the most talked about content marketing trends for 2017.
Chatbots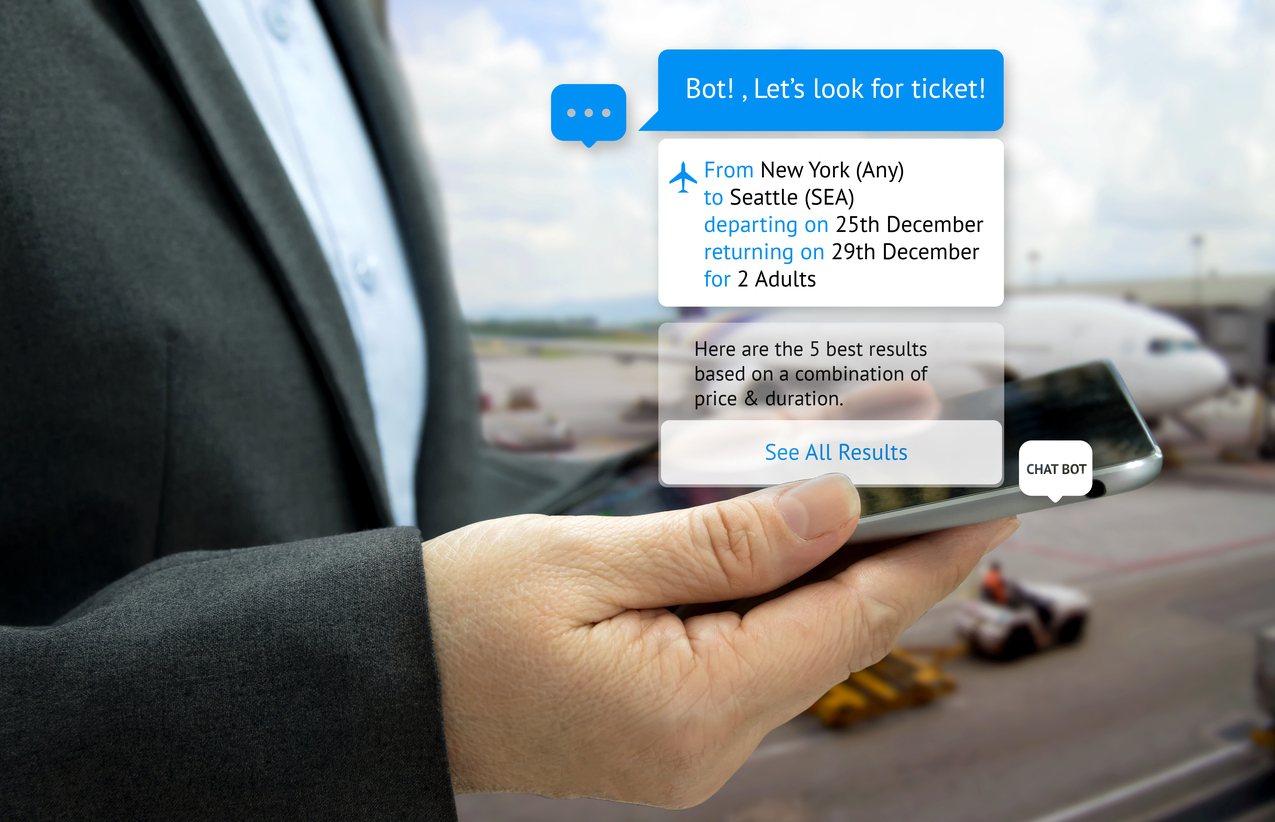 Imagine being able to talk to your customers when you aren't around. Blog articles and videos won't do it; you need to have real conversations with your customers.
Now you can with the help of chatbots, programs that exist within messaging apps such as Kik or Facebook Messenger. They allow you to have automated conversations with your customers in real-time.
Chatbots can help you change your communication from a brand-focused perspective to a customer-focused one. You create a more personal relationship while addressing the specific needs of your audience.
Two Types of Chatbots
Rule-based, in which a user receives a pre-defined response based on an input.
Natural Language Processing (NLP) based, in which the bot analyzes the user message to extract intent and create a more individualized response.
Both types of chatbots allow your users to interact in a conversational format to get a solution to a need. If your bot has that solution, your user leaves the conversation happier and satisfied with your brand. On the other hand, if your bot can't give them an answer you can use the information taken from that conversation to create content around them.
Using chatbots represent a win-win for both parties. Your company increases the relevancy of its content, and your visitors get better solutions.
In 2016 preppy fashion brand Tommy Hilfiger used a Facebook Messenger bot during New York's Fall Fashion week to display their products and answer questions. It ended up with over 7,000 responses and an engaged audience.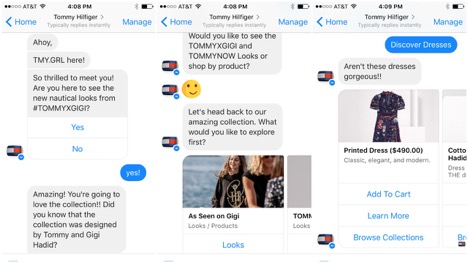 Conclusion: These Five Content Marketing Trends Aren't Going Away
Content marketing is undoubtedly one of the most important marketing avenues for any company to use. And it's still growing, incorporating new technologies along the way.
Today, you have seen how five content marketing trends have been changing content marketing in 2017 and beyond. (Which of these technologies do you think will be the most effective in the future? Let us know in the comments.) Another way to ensure your 2017 is successful is to up your SEO game. Download Curata's eBook with Andy Crestodina: The Future of Search Engine Optimization: 5 Ways to Adapt Your Content for 2017.