Earlier this month, we released our third annual industry study, Content Marketing Tactics Planner 2014. We surveyed over 500 marketers on their current content marketing practices and where they're taking their strategy in 2014. The results revealed a focus on three major marketing strategy components: people, technology and the content mix. With 71 percent of marketers increasing their content marketing spend, we expect to see these organizations driving more high quality leads and building more brand awareness.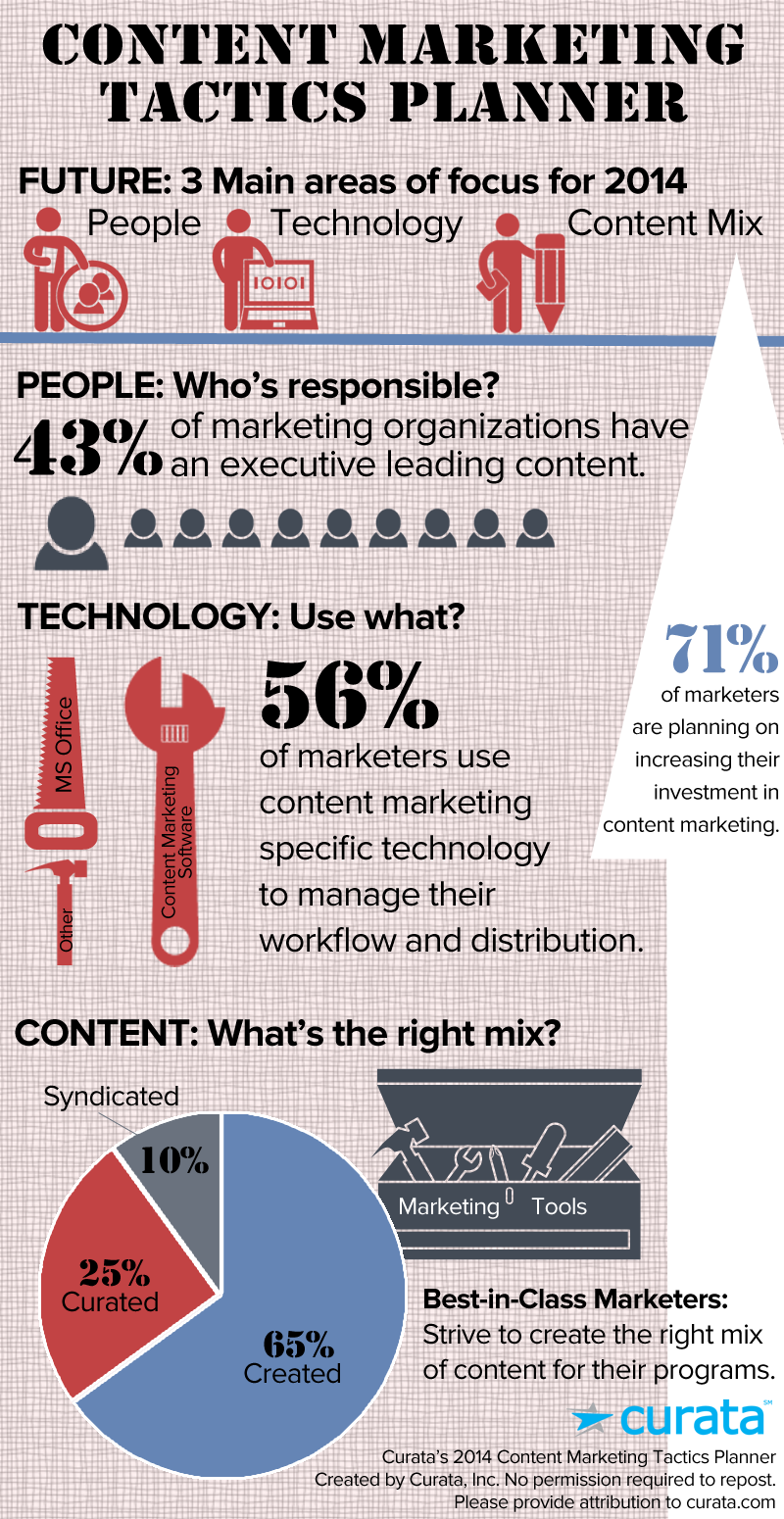 People
The Content Marketing Tactics Planner reported that 43 percent of organizations already have a content marketing lead in place. These executives dedicate their time solely to the development and management of content. Top-notch marketing organizations are also starting to grow their content teams. These teams are taking authority on creating and curating high quality, consistent content for their audiences. This type of in-house content production and distribution gets more relevant, valuable content out the door – driving leads and increasing customer engagement.
Technology
Most marketers find it difficult to feed the content beast a steady stream of content with a limited staff and budget. However, many are turning to content marketing specific technology to help them manage their content workflow, find reliable sources and create enough content on a regular basis – 56 percent to be exact! These best-in-class marketers using technology are better able to produce more content (using curation tools) and manage content production more efficiently (using content management tools). Technology allows content marketers to become thought leaders on their topics, engage more buyers and stay afloat in the flood of online content.
Content
Many content marketers are realizing that it's nearly impossible to create 100 percent original content with limited resources. Curation and syndication are proving to be life savers when it comes to getting content out on time without overworking your writers or stretching your marketing budget with outsourcing. The Content Marketing Tactics Planner revealed that first-class content marketers are only creating 65 percent of content, with 25% being curated from reliable sources and 10 percent being syndicated from topic-related sources. This mix is perfect for supporting a limited staff and budget, publishing consistent content and becoming a go-to source of information for potential customers.
Want to learn more about what's next for content marketing, where your strategy should be headed and what content tactics to implement? Download our latest eBook Content Marketing Tactics Planner 2014.