You and your team doubtless spend a lot of time creating content for your target market. Once it's posted, it's time to sit back and watch the traffic roll in, right? Wrong. Creating content is only the beginning. Successful content marketing strategies for B2B firms dedicate time and resources not only to content creation but to content distribution.
Here we examine the top content distribution techniques B2B firms use to entice their ideal audience to their website.
Start With Great Content (Good Isn't Good Enough)
Before we dive into content distribution techniques, it's important to discuss something fundamental to B2B marketing and content strategies. All content creation for brands should focus on quality, not quantity. There is so much noise out there, even in certain niche industries, that it's important to produce quality pieces of content that resonate with your audience. Do you write sub-par blogs, create low quality videos, or throw together boring guides? Expect the reaction to those types of content pieces to be lackluster.
Alright, now that we have addressed the issue of quality content, let's jump into effective content distribution methods.
Share it on Social Media
At minimum, the first thing your content team should do is share your content on social media channels. You don't need to take to every social media channel and blast it out repeatedly however. In fact, it's better to carefully select the social media channels where your target market is active.
For B2B firms, we find that our clients' ideal prospects are typically active on LinkedIn, Facebook, and Twitter. Instagram, Pinterest, and Google+ (yes, people are still on Google+) are also good places to connect with a B2B audience. We haven't seen much of a case for B2B firms on platforms like Snapchat. But if you have a strong following on the platform, definitely share your content there.
Check out 11 effective ways to promote your content using social media. Neal Schaffer explains how to share your content to maximize user engagement and entice them to actually click on your content.
Email Newsletters Get the Word Out
Building up your owned audience is essential for distributing content. No matter what, you own your list of email subscribers. Build this over time. Get opt-ins on your website, through your sales emails, on your blog posts, and via social media. The ideal aspect of an owned audience—in this case an email subscriber list, is that you can completely control the messaging, how it appears, when they see it and the frequency of when they see it.
Whether they are monthly, bi-monthly, or quarterly, branded email newsletters are an excellent way to get more eyes on your content and more visitors to engage with your content. Typically an email subscriber list includes a mix of current customers and prospects. Sharing your content with existing customers is a great way to have a customer touchpoint. It also reinforces your standing as a resource for your clients. Sharing content with prospects who are interested but not ready to commit keeps you top-of-mind and builds your topic authority. So when they are ready to close the deal, they come to you and not your competitor.
Paid Content Distribution Techniques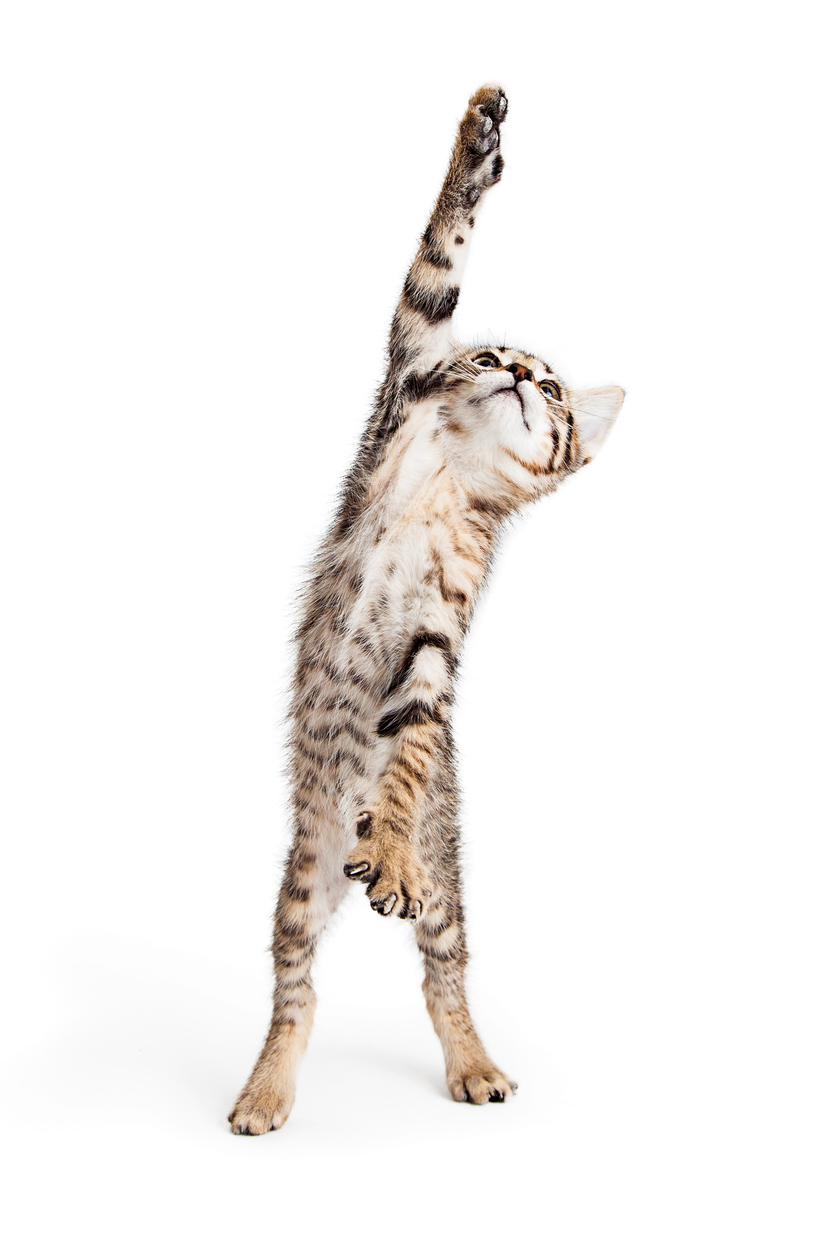 There are many content promotion tools out there. However, a quick way to distribute your content is through paid promotional campaigns. We'll look at several paid options for promoting and extending your content's reach through the rest of this article.
Organic Is Mostly Dead, so Pay Your Way
Yes, organic reach on social platforms is mostly dead. While your brand may still be able to organically reach your audience if they engage with your content regularly and have selected to receive your content updates, it's important to note that organic reach on platforms like Facebook is mostly a thing of the past. The answer however, is not to stop posting on social media. The social media usage statistics don't lie; people are more active than ever on sites like Facebook, Twitter, and LinkedIn.
In addition to sharing content on your social media channels, using paid social promotions is effective for B2B companies. The major benefit of paying to promote content on platforms—particularly Facebook and LinkedIn—is the targeting capabilities.
You know your ideal audience—where they live and work, which industry they work in, their job title, etc. Use that knowledge. Get your content in front of your ideal audience who may not follow your brand on social media or be aware of your company.
LinkedIn Targeting
LinkedIn has a ton of options for sponsored content (paid promotions). The newest option is Matched Audiences. You can target people who have visited your website, also called retargeting. Or you can target a list of ideal accounts or contacts, often called account based marketing, or ABM. (Read Doug Kessler's account of how to integrate content marketing with account based marketing.)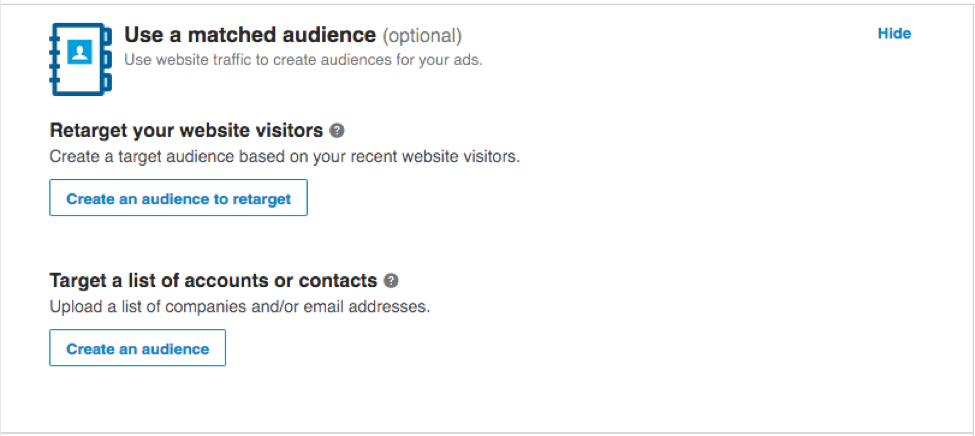 To reach new audiences who may not be on your radar, LinkedIn has a variety of targeting parameters to make your paid content distribution successful. You can geo-target, zero in on a particular industry (such as insurance, apparel & fashion, or manufacturing to name a few), exclude or include companies by their size, and even target individuals with certain titles (such as CEOs, Project Managers, Marketing VPs, etc.). There is even an option to target individuals at certain companies.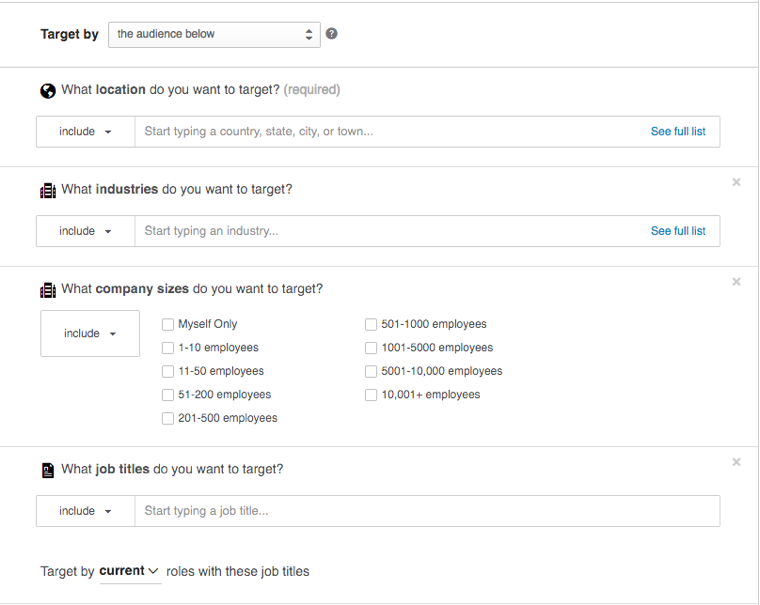 The options aren't endless with LinkedIn Sponsored Updates. But they do offer enough specificity to ensure your paid content distribution isn't wasted on a less-than-ideal audience.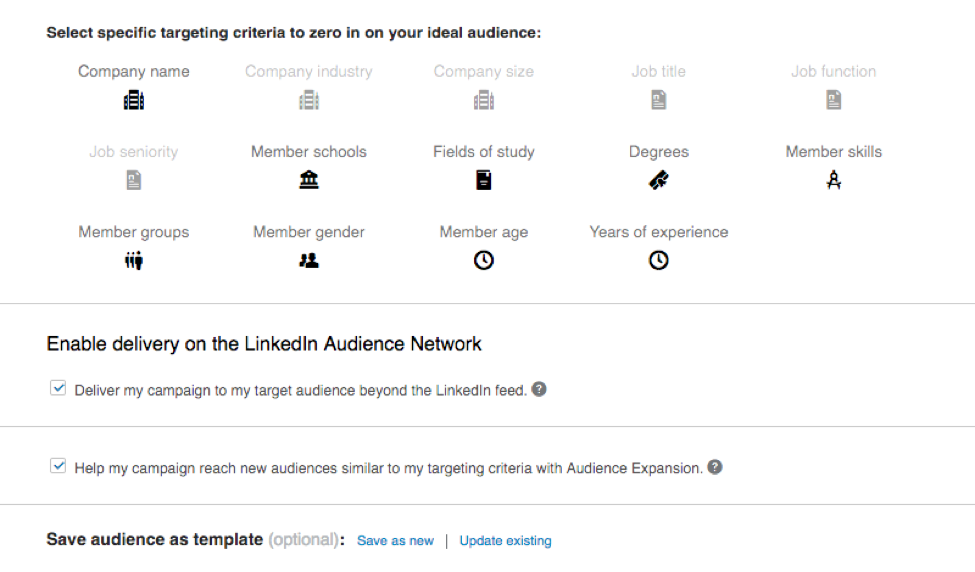 If your audience isn't on LinkedIn, Facebook offers similar targeting options for paid social promotions. Just like LinkedIn custom audiences, Facebook has the option to create custom audiences for your paid content distribution strategy.
Retargeting Ad Campaigns
However, paid promotion on social media isn't the only way to extend your content distribution reach. Say you have website visitors who haven't converted and aren't signed up for your email newsletter. They've shown some level of interest and have been to your website. It's time to retarget these visitors and get your new content in front of them with retargeting campaigns.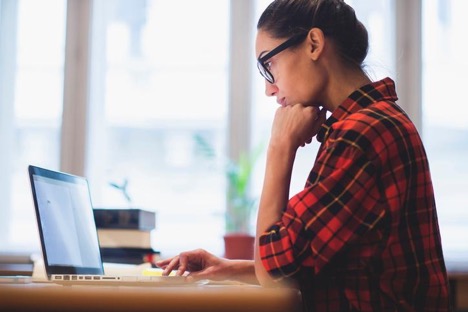 Retargeting website visitors with content has a twofold effect:
It keeps your brand top of mind with prospects
More visitors will view your content
Research shows it can take up to 6 touch points or more to get a viable sales lead. Why not use your awesome new content as a touchpoint? It's simple to create a nicely designed, simple ad that promotes your content. And there are a variety of platforms that offer retargeting advertising, also called remarketing. The company I work for, Bop Design, uses AdRoll for retargeting, but there are a range of comparable options like Retargeter and Magnetic.
It takes more effort to roll out a retargeting campaign for content distribution and promotion. So try to only retarget website visitors with stellar content pieces. Well-designed downloadable guides are great candidates for remarketing. Although a progressive thought leadership article can also be successful for retargeting visitors and driving website traffic.
Run Search Ad Campaigns
The limitation of retargeting is that it doesn't get your content in front of people who may be searching for your firm's products or services. Paid search ads are an alternative method that does. For some reason marketers often consider PPC campaigns to be separate from content marketing efforts. Rather than creating more content, PPC campaigns are a great way to get more mileage out of existing content. They should be part of any content distribution strategy. If you've created a buying guide for the services you offer, run a PPC campaign targeting terms related to those services.
The pro tip here is to not just rely on Google AdWords for a paid content distribution campaign. Take a look at Bing ads. Remember, many B2B users are forced to use Windows with Microsoft Edge as the default browser.
Account Based Marketing Promotions
We've already touched on ways to reach a target market using data they have supplied to social networks, via browser cookies, and through searching online. Now we encounter the cool (and yes, kinda creepy) ways you can get your content in front of prospective clients. It's called account based marketing (ABM) and it's not necessarily new, but many of the technologies are. Essentially, ABM platforms like AdDaptive Intelligence and El Toro use proprietary IP targeting technology to serve up display ads on a network of websites to a predetermined group of individuals in a target market.
A little creepy. Also, very cool when it comes to controlling the audience reached, timing of ads, and the content being displayed. ABM may not be the first thing you think of when deciding on content distribution channels. But it is a great way to get your content in front of a target list of individuals or key accounts.
In fact, ABM is the ideal channel for B2B firms that have clients in various industries. For example, say you create an article on how apparel manufacturers can streamline their A/R. Now imagine there is a convention coming up for apparel manufacturers. A targeted ABM campaign promoting that article to convention goers ensures the money you spend only reaches that audience. You avoid distributing industry-specific content to the wrong audience.
Publish a Press Release
One last pay-to-promote strategy is not a new idea. But it's still an effective means of getting your content in front of a broader audience. Publishing press releases discussing your content pieces is a good way to drive traffic to your content. Press releases still drive traffic and interest.
An effective use case for press releases to expand content distribution is promoting a branded industry report or industry trends content piece. Both content pieces are newsworthy and are likely to elicit attention from professionals in that industry. At Bop Design, we use this method to promote our content and our clients' content with great results. In one case, a press release announcing the release of industry trends garnered excellent social media exposure and increased website traffic. It also resulted in a well-known industry association contacting us for a follow-up interview on the trends.
Conclusion: Get Out of the Box
It's easy to get into a routine of distributing your content through the "regular" channels and doing things the way you always have. However, the best way to get results and amplify your content is to get outside of traditional content distribution strategies. Marketers spend a lot of time and effort to create awesome content pieces that will resonate with your target market. The right content distribution strategy will wring the most value out of those content pieces and garner the most interest from your target audience. To learn how to integrate distribution into a holistic content strategy, download The Content Marketing Pyramid: A Framework to Develop & Execute Your Content Marketing Strategy eBook.