Pure happenstance made us consider a vertical Account Based Marketing (ABM) program. It was the inadvertent outcome of an ABM pilot Curata ran over six months for our Content Marketing Platform (CMP). During this time, sales and marketing identified and targeted select B2B tech companies. Each had a specific marketing tech stack and content marketing strategy that we felt could be enhanced by smoother planning and content performance analytics. During this outreach, we unexpectedly landed a handful of happy customers for our other product: Curata Content Curation Software (CCS). This made us question whether or not an intentional ABM plan could work for both our products. The key challenge? The ideal customer profile and average deal size between our two products can vary substantially. So, would an ABM strategy be possible, or make economic sense?
Researching Whether and How to Implement an ABM Strategy
The sales and marketing teams coordinated our goals to justify the effort and resources required to build an account based vertical approach. We had to determine if a unique, referenceable, and identifiable audience existed for our product. And we had to feel confident we could create a repeatable sales approach that would yield sales wins at or above our inbound conversion rates.
The aforementioned elements are important because:
Unique: If the story is the same for everyone, mass marketing tactics may work more economically.
Referenceable: Are the customers happy and wanting to share their win? This validates the product/market fit and is a good indicator we'll be successful.
Identifiable: To build an outbound/ABM strategy, we need identifiable attributes that allow us to find the right accounts and contacts online. If the profile is too general, again, we'd be better off using other marketing strategies.
We broke the research phase into two main parts:
Should We Do It?
Do the acquisition economics make sense?
Is the use case/story unique or does it apply broadly?
Do we have advocates? Which success stories can we tell?
Is the industry a driver of success and/or are there other success attributes at play?
How Do We Do It?
Do we deeply understand the customer—their needs/pains/successes?
What support does sales need?
How will we measure success?
The Economics of an Audience
Curata's first year average sale price (ASP) for our curation software is half that of our content marketing platform. So we questioned the additional investment in human and dollar resources required to run an ABM campaign. However, we had an ace up our sleeve—nearly a decade's worth of customer lifetime data. We set out to understand our high lifetime value customer segments, where a higher initial acquisition cost could be offset. We cleansed our industry data using out of the box reporting in Salesforce.com, then compared days of lifetime/contract length by industry.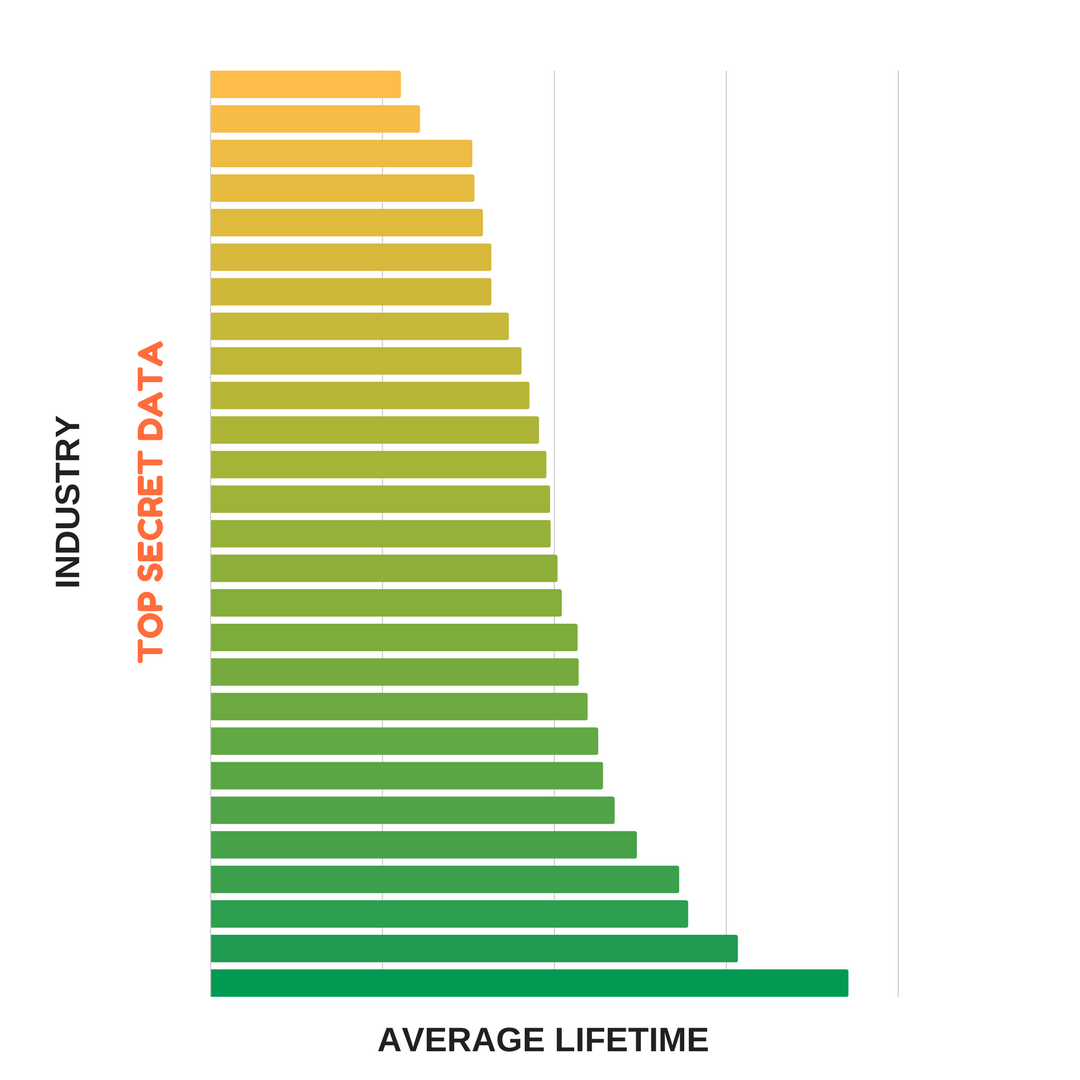 From here, we determined the minimum number of customers per vertical required to confidently consider them in our outbound plans. For example, we had one vertical with CRAZY long renewal rates, but only a few customers. We ruled this vertical out. We wanted to narrow in on our best bets to start, knowing we could always expand later. This process helped us filter 28 industries down to seven, where customers renewed for multiple years. These high lifetime value (LTV) customers offset the higher cost of our ABM strategy.
Is There a Unique Story?
Next we analyzed whether the use case was unique across these industries. We assumed that the act of renewing multiple years meant a customer was having success curating. But we wanted to understand if a particular industry was an attribute of success, and/or if there were other factors making these customers stick around longer. For example, if the attributes were the same across high lifetime value segments, then we may not need to tell an industry specific story. Rather, we could target a broader group with the same value based messaging.
To figure this out, we went back to our customer list in Salesforce and identified two to three customers for each of the seven high LTV industries. We then interviewed the Customer Success Manager for each account. In 30 minutes with each manager we captured:
Business overview
Their curation use case
Main users and job titles/role focus
Referencability. Were they happy and willing to share their story?
Whether we already had a documented case study for this vertical
Interviewing our in-house team closest to these customers was incredibly helpful. It allowed us to better understand the various segments and the variety of users and needs. It helped us identify gaps in our collective knowledge that we needed to fill in to deeply understand how to craft an experience that would resonate.
At the end of this process—which took roughly a week—we were able to eliminate two more industries where we felt the use cases weren't different enough from our broader marketing messages. Now it was time for deeper profiling and to validate the critical success factors at play.
---
Hot Takes: Four Practitioners on ABM
'Don't hesitate to collaborate' should be the ABM mantra. The biggest mistake ABM teams make is not setting specific, quantifiable goals by account that are aligned with sales goals. This makes everything else so much harder. A close second mistake is not tapping into all the internal resources that can help Account Based Marketers get their work done faster from content teams to customer advocacy to influencer/analyst relations, data and analytics and more.
Megan Heuer, SiriusDecisions VP of Research
The biggest mistake they make is to forget to include sales in the planning process. Sales doesn't want marketing to swoop in at the end with a to-do list. If sales truly is your partner, treat them that way from the start.
Joe Chernov, VP of Marketing at InsightSquared
The biggest mistake [in ABM] is in assuming that all audiences within the account need the same content at the same part of their buyer's journey.  Some personas need to be inspired at the same stage as others need to be informed and educated.  Truly knowing the nuances of the different audiences can make all the difference.
Robert Rose, Advising Content's Chief Strategy Officer
The biggest mistake marketers can make when developing an ABM strategy is to not allow enough time to ensure the strategy is working. As marketers in today's digital world, we've come to expect almost instant results. In traditional demand generation, we can quickly A/B test, optimize, and change. While it is imperative to apply these same tactics in an ABM strategy, you need to give the campaigns extra time to win over large accounts—it's very tempting to change tactics when you're not seeing immediate action from your audience. In these large accounts, there are most likely multiple people involved in making business decisions. If you don't allow yourself enough time to reach all of these people, you're not giving your campaign a fair chance.
Rebecah Wiegardt, Account-Based Marketing Manager at GoAnimate
---
The Profile of Success: Which Factors Are at Play?
At this point, I rallied the marketing troops to help with the research. We divided the five verticals amongst the team and created a list of questions we wanted answered about the customers in each vertical. We went after information that was accessible online from their website or other public profile listings.
The relevant factors in our profile set included:
| Attribute | Primary Information Source |
| --- | --- |
| Two year employee growth | LinkedIn |
| Main user job titles and responsibilities | LinkedIn, Salesforce or Google |
| Source of revenue/go-to-market strategy | Observed/assumed from website |
| Curation use case and curation style | Observed on website and marketing channels |
| Marketing Strategy: | |
| Channels and frequency of social, blog, newsletter, etc. | Observed on website and marketing channels |
| Variety and usage of content marketing mix (gated vs. ungated) | |
| Existing resource library/center | |
| Competitors | CrunchBase or similar and the ol' Google machine |
We set three research deadlines one week apart, followed by a group review of the profiles. At each review, a team member presented the profiles they had completed using Google Slides, and we discussed and documented trends and inconsistencies within our customer/vertical set.
We challenged ourselves to extrapolate the use cases and attributes we were uncovering, and to decide whether they applied consistently within the vertical. Or whether there was an even narrower sub-vertical or segmentation opportunity.
One instance of this was in Financial Services, where we felt the use cases and attributes we observed may not hold true in the majority of the industry. However, we found narrowing down to local branch banks, for example, could produce a more repeatable success model based on the other factors we observed. "Gut instinct and reasoning" may not be so popular in research these days, but in this case, blending brains, guts, and data—made sense.
At the end of the three week research process we had identified four industries with unique use cases and success attributes. We felt they represented solid candidates for our outbound/ABM strategy. Now we needed to determine:
The appropriate scale of the initial pilot
Which marketing and sales content already existed and/or was required
Which tools and sales training was needed
How Will We Do It? Launching the Pilot
Taking a note from Curata advisor Mark Roberge, we knew to approach this test on a small enough scale that it wouldn't interrupt other business functions. However, it also needed to be large and varied enough that we could collect the required data and rule out single-participant bias. I.e., if we only had one salesperson test it, whether they nailed it or failed it our results would be off.
The Initial (limited) Scope of the Pilot:
One industry, reduced from four. We chose Trade Associations
One marketing owner
Three business development reps (BDRs)
We designated the marketing owner as the single source of feedback. And we created a rapid learn and optimize partnership with our BDR team. Then we had to coordinate sales training, identify target accounts, support contact discovery, provid email templates, listen to pitch calls, monitor performance data, and tweak and identify new content/messaging requirements for future phases of the pilot. Phew! Yes, even in limited scope, it was a lot of work!
Key Performance Indicators
To monitor progress, we planned to measure three KPIs:
Discovery calls: an in-depth conversation for both sides to learn more
Discovery call to opportunity creation
Opportunity win rate
The next step? Assess these KPIs against the historical performance of the same metrics within our inbound lead cohort and outbound/ABM cohort. We would deem this pilot a success if we could achieve higher conversion rates than our inbound channel, and similar results to our other ABM program (or better!). We calculated the funnel conversion rates using data from Salesforce, isolating for a set timeframe or cohort of leads.
Content, Tools, and Sales Enablement
Balancing a "pilot" approach with setting ourselves up for success was possibly the hardest part of the process. You don't want to sink a disproportionate amount of resources into an ABM strategy without some indication it will be worthwhile. But if you under-resource—you could doom it from the start.
We did our best to balance this in real-time as we worked with the BDR team. We decided along the way what felt necessary versus nice-to-have, or to be developed later. From a content marketing perspective, we wanted to have at least one industry-specific item, and the ability to communicate with prospects in their "native tongue." We did this with targeted emails and a targeted case study.
If things went well, we would create top of funnel blog posts aimed at trade associations and consider modifying top performing eBooks to include an excerpt for associations. (Here are some more account based content ideas.)
Here's what we delivered as part of the pilot launch:
Sales Training
Internal Materials
Prospect Facing Content
High level industry overview (jargon and other unique characteristics)
Recommended reads: relevant industry specific articles/news
Seven touch email templates
Reviewed customer reference stories

Quick reference cheat sheet of customer stories
Industry specific case study: CS2 Compliance
Refreshed relevant products/features
Sample customer profiles (the rough version marketing produced in research phase)
Curation Use Cases Guide
Curata CCS Benefits Sheet
Identified key attributes of accounts and contacts
We leveraged our in-house tools for this exercise. These included Salesforce for account and contact management, SalesLoft to manage email and call activities, Engagio to observe target account activity, and ZoomInfo and LinkedIn Sales Navigator for prospecting.
Given their focus on B2B and tech, ZoomInfo and LinkedIn didn't have enough contacts within our trade association target accounts. So we supplemented contact discovery with a specialized tool (free trial baby!) called Associationexecs.com. Using Google to identify our first set of accounts, we generated 300 targets and aimed to locate a minimum of two contacts each.
What We've Learned So Far
We're a month into outreach and have already learned plenty about this industry:
They actually answer the phone! We're experiencing a higher than average call connect rate.
Timing is key. Budgeting and purchase approval cycles happen annually and are quite rigid.
Education is required. Content marketing and content curation tactics are relatively new concepts, so educational materials are helpful.
Purchasing marketing software is new. Unlike B2B buyers, trade industry buyers don't make many software purchases, especially for marketing. Making these buyers comfortable with the process is important.
Locating contacts is difficult. Even with three different tools, it was hard to find appropriate contacts. The effort required was definitely higher than normal.
It's still too early to call the final score, but if businessman, author and motivational speaker Nibo Qubein is right, we should be on the right track with our ABM strategy. As he eloquently puts it, "Nothing can add more power to your life than concentrating all your energies on a limited set of targets." To measure how well you're hitting those targets, download the Content marketing Metrics: Account Based Marketing Edition eBook.