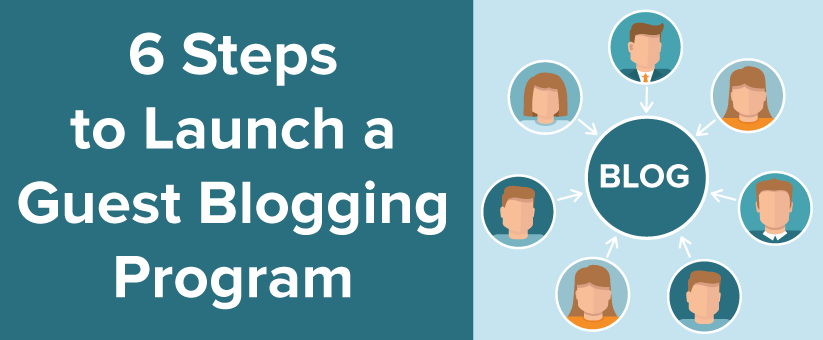 You may have the best, most original blog content in the world as part of your content marketing strategy, but your budget and audience will both appreciate third-party contributions from guest posts.
From providing a new perspective on your usual blog content, to accessing a whole new audience, these are just some of the reasons why you should consider accepting guest posts. In fact, the results from our business blogging study indicate that the best content marketers source 24% of their blog posts from external contributors, and 56% of externally sourced blog posts are from non-paid, guest bloggers.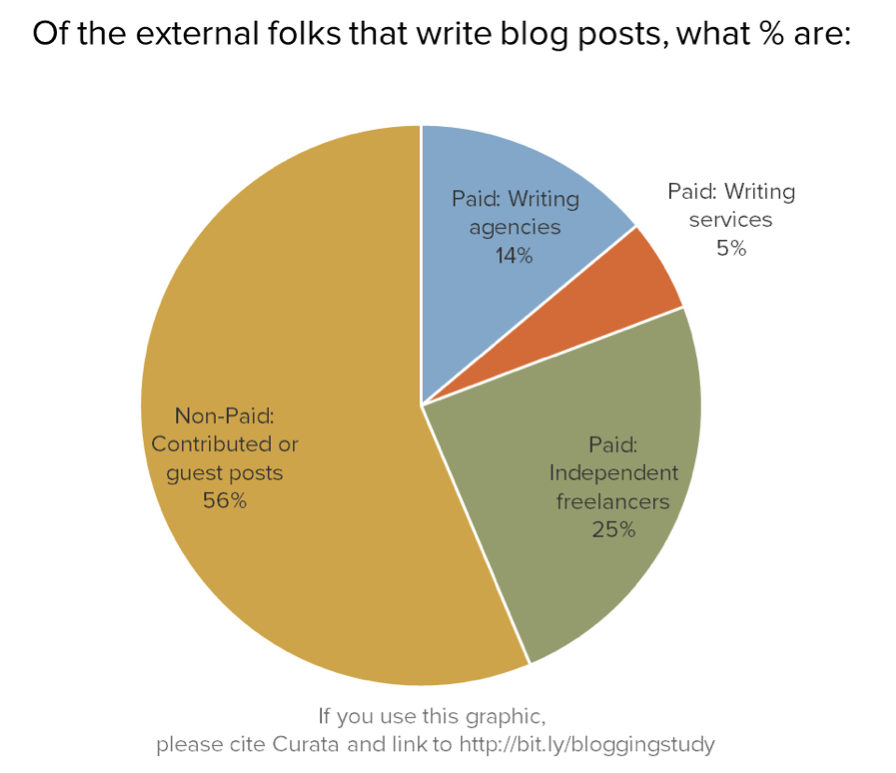 Benefits of Guest Posts for Your Blog
There are many benefits to developing a guest posting program for your blog, such as:
New Content:"Limited budget" is the #1 challenge for content marketers in 2015 (Register for our free

Feb. 10th

webinar to learn about other 2015 plans by leading content marketers). You get great content (hopefully) without having to spend more resources on content creation; however, be prepared to sharpen your pencil for editing your contributors' content.
Value for your audience: Your audience will appreciate seeing a new perspective in addition to the topics that you usually write about. As great as your content may be, your audience wants different perspectives on the same topics.
Audience retention: What's one of the benefits of providing greater value for your audience?. . . They'll want to stick around and read more. This may even include viewing other content on your site, or checking out more about your company and its products/services.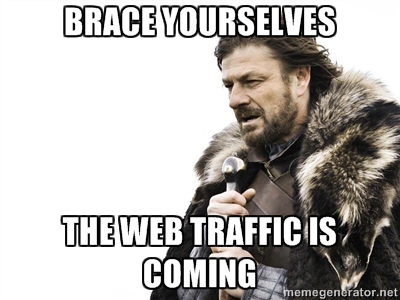 Great guest posters = More traffic: You'll certainly get more traffic and better engagement if your guest posters produce great content. Guest posters may also drive additional traffic to your site if they promote their post to their own blog audience and social media followers. This will no doubt expose you to a new audience.
Influencer marketing: Engaging with guest posters is a great way to be part of your ecosystem, and to get to know its "movers and shakers". A next step will hopefully lead to more interaction with your guest posters, such as joint webinars, or even opportunities for new business with your posters and/or their contacts.
Improved writing and other content marketing skills: You may learn a thing or two from your guest posters.
What Makes a Successful Guest Blogging Program?
1. Put Someone in Charge of the Guest Blogging Program
This person should manage all aspects of the program, including the items below and communication with guest bloggers. Most importantly, ensure you have a strong editor(s) on your team.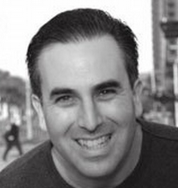 "Our team at Social Media Examiner includes 7 editors under a chief editor. Our team also includes SEO experts, content writers and copywriters. We publish two times per day."
MICHAEL STELZNER
Founder, Social Media Examiner @Mike_Stelzner
Source: The Ultimate Social Media Marketing World Wrap-Up
"Our editing team at CopyBlogger includes 2 people to review posts, then our Chief Content Officer has the final view."
BRIAN CLARK
Founder, CopyBlogger @brianclark
Source: The Ultimate Social Media Marketing World Wrap-Up
2. Develop a Guest Blogging Strategy
Content Strategy: Identify the key topics you want your guest bloggers to cover and ensure that the topics align with your overall content marketing strategy. It's ok to stray a bit from you key topic(s), but ensure that it will still be of value to your audience.
Target High Value Bloggers: Look for content contributors that will bring the most value to you and your audience. At the same time, ensure that there will be value for your contributors in being part of your program. (e.g., they will get exposure to your audience and have the opportunity to build their own page rank by providing links on your blog). As great as it may be to get a superstar influencer to post on your site, don't overlook the value of including other types of contributors.
"Stop sucking up to the people above you and spend more time raising up the people alongside of you."
CHRIS BROGAN
CEO, Owner Media Group @chrisbrogan
Source: The Ultimate Social Media Marketing World Wrap-Up
3. Publish a Guest Blogging Policy with Guidelines
If you're going to allow guest posts on your site, you need to be specific about what you will and won't accept, and what your guest posting process entails, such as:
Preferred word-count or length of post. (e.g., provide a range)
Backlinking do's and don'ts.
The type and tone of content that you're looking for. (e.g., you may not want your contributor to spend much "real estate" writing about your own products, and instead focusing on pain points of the audience)
The editing process. (e.g., you should reserve the right to edit your contributor's content, yet give them the courtesy of a final look prior to publication)
A rule that you will only accept original content, and that the post will not be republished on other sites.
A note about how proper attribution will be given to all pictures, data and other content that does not originate from the contributing author.
Copyright rules – For example, indicate that the author has the copyright to his or her words, but that your company can use them in other pieces of content, with proper attribution.
Setting these expectations up front will be a key success factor in establishing valuable, long-term relationships with your blog contributors.
Read the guest blogging guidelines of some of the biggest names right here:
4. Make Contributors' Posts Better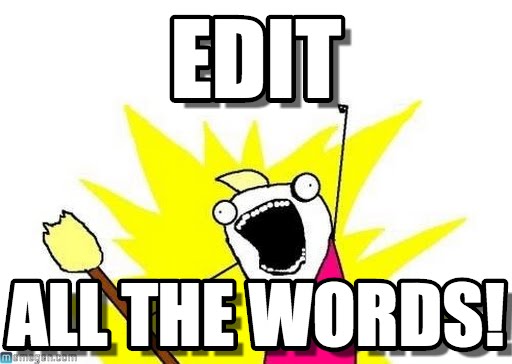 You or your editor's job is to publish blog posts that will provide as much value as possible to your audience; and no one knows your audience better than you. Therefore, for the benefit of you, your audience and your blog post contributor, invest in the time to edit their post. Make it a better post.
This may include content revisions; spelling and grammar improvements; making the content more readable through bolding, bullets and other formatting; and adding visuals to the post. Your guidelines should include a statement that you will be editing their work to ensure that there are no surprises when they see their final, edited content piece.
5. Be Proactive about Managing Timelines and Delivery Expectations
You should already have an editorial calendar in place for your blog and other content marketing activities. (Don't have one?. . . Check out this Ultimate List of Editorial Calendar Templates for help in creating one) Ensure that you've built in a slot in your editorial calendar for your contributors' posts. Then, more importantly, agree to a set of milestones and dates with your guest posters. For example:
Draft due date: ####
Review by editor: 2 to 3 weeks after receiving the draft
Publish date: ### (or leave open-ended and keep your contributor up to date on when it will be published . . . and don't forget to team with them for promotion)
You don't necessarily need hard and fast rules for when you edit or publish a guest post, but be sure to keep the contributor in the loop if the process is taking longer than expected.
6. Measure Performance of Your Contributors
Ok, I know that content marketing performance measurement is in a very nascent stage right now. Regardless, apply whatever metrics you're currently using for your own posts to your contributors. Use this insight to identify your best posters . . . and don't lose the ones that give you and your audience the most value!
For those of you that are move advanced in the content marketing measurement area, push the limits to determine the impact of your individual writers on generating and influencing leads in marketing's pipeline and opportunities in sales' pipeline. (Here is a complete guide to content marketing metrics)
To learn more about guest blogging and other best practices of leading business bloggers, grab your copy of Business Blogging Secrets Revealed. In here you'll find survey results of 428 marketers, as well as insights into how the best business bloggers receive 10K+ page views per month.