Marketers in a content-driven landscape are responsible for producing huge amounts of content, day in and day out. But most of us don't have the time, staff, or budget to publish enough great (or even good) content. We do the best we can, but it's often impossible to stay ahead of the demand. That's where content curation comes in.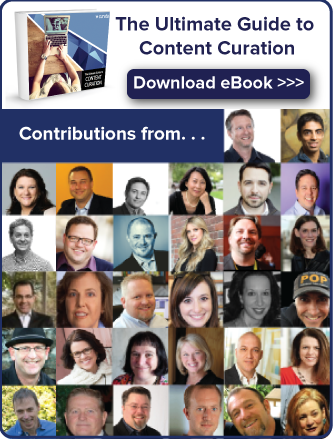 This hands-on guide shows you how curation fills that gap, answering the following questions:
WHY content curation is a good idea, including a look at the new Buyer 2.0.
WHAT content curation is, and how it fits in the context of the overall content marketing mix.
HOW you can put content curation to work for your brand, including a detailed, step-by-step look at what, when, where, and how to curate effectively.
WHY you're curating content in the first place—a full-circle look at performance, measurement, and optimization.
This guide also includes insight from over 30 content marketing experts, who each answer the question: What's the single biggest benefit curation brings to content marketing?
For an even more in-depth analysis, download the full eBook, The Ultimate Guide to Content Curation.
Why Content Curation? 
The path to purchase used to be a straightforward line from point A (buyer need) to point B (conversion). It was easy for marketers to guide and even control a prospect's journey along this narrowly defined series of steps.
As you know, all that's changed.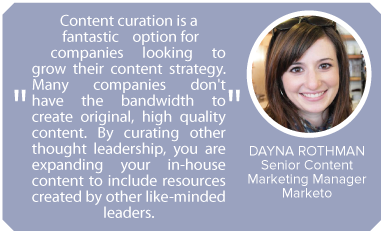 Today's buyer is hyper-connected in real time via multiple devices and channels to an inexhaustible avalanche of information. This buyer isn't waiting for you to tell them what to do next. In fact, according to Sirius Decisions, 70% of the buyer journey is now completed without any sales involvement.
So, how are buyers making their purchase decisions, and—more importantly—how can you influence those decisions?
Enter content marketing.
Businesses are adopting content marketing to respond to this consumer environment. It's a process for developing, executing, and delivering the content and related assets needed to create, nurture, and grow a company's customer base.
However, as more businesses jump onto the content marketing bandwagon, it becomes more difficult for marketers to maintain the frequency and quality of content required to compete.
Content curation helps you compete effectively and efficiently, and provides unique benefits critical in today's market.

Adding content curation to your content marketing mix delivers the following benefits: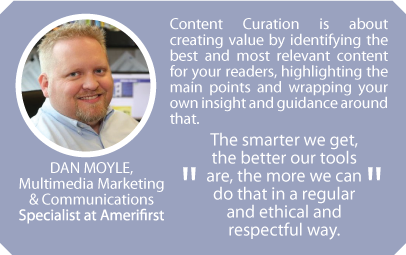 Improves Search Engine Optimization: Curated content becomes additional indexable pages that provide more doorways into your site via search engines.
Establishes Credibility as a Thought Leader: Curated content from high quality third party sources helps you develop go-to web resources that improve your credibility and trustworthiness as an impartial authority on your topic.
Supports Lead Generation: Curated content drives incremental site visits that increases the potential for landing quality leads.
Streamlines Lead Nurturing: Curated content is easily repurposed via newsletters, emails, and other channels to make lead nurturing simple and consistent.
Complements Social Media & Blogging: Curated content supplements your social media publishing schedule and helps facilitate social media conversations—not only with prospects and customers, but also with peers.

Quick Refresher: What is Curation?
Curata's definition of content curation is as follows:
Content curation is when an individual (or team) consistently finds, organizes, annotates, and shares relevant and high quality digital content on a specific topic for their target market."
At its best, curation is…
A person, not simply a computer algorithm.
Being discerning, discriminative, and selective.
Adding value: perspective, insight, and guidance.
Not a one-time event or activity.
A laser focus on your audience.
Key Points to Remember About Content Curation
You can curate content from a wide variety of online sources, including trade publications, social media profiles, blogs, scientific journals, news outlets, and more.
You can and should organize curated content using rich and tailored taxonomy, grouping and categorizing related content.
You can share content with your audience via many different channels including websites, social media feeds, blogs, mobile apps, widgets, and email newsletters.
Content curation is not aggregation, which lacks the human touch.
Content curation is a fundamentally human process. At the center of it all is the curator—you—hand-selecting which content to share, determining which organizational method will increase accessibility and usability, and adding context and insight to aid your audience in gaining a deeper understanding of the content.
Content curation is not content farming: a.k.a. the unethical pirating of third-party content and publishing of high-quantity, low quality content.
How Does Content Curation Fit into the Content Marketing Mix?
According to Curata data, best-in-class marketers create 65% of their own content and syndicate 10%. For the remainder they use content curation, as illustrated below.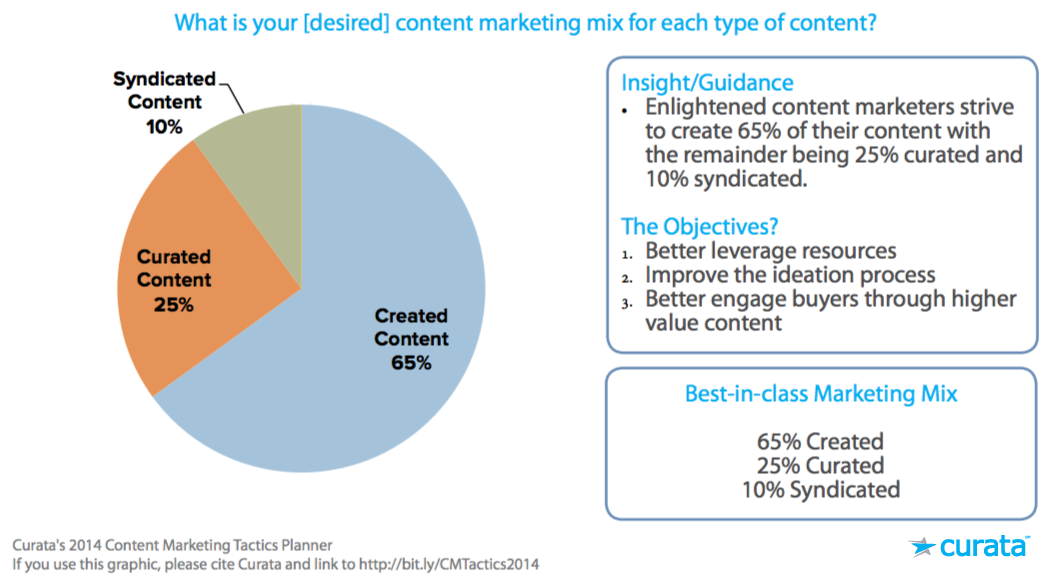 A Step-by-Step Guide to Content Curation
There are five primary activities required for developing and maintaining an efficient, effective and ethical curation practice:
Define your objectives
Find your sources
Curate by organizing and editorializing
Share via a variety of channels and mediums
Analyze and optimize your content curation performance
1. DEFINE YOUR OBJECTIVES
Content curation can be used externally for marketing purposes, or internally for knowledge management and competitive intelligence. This guide is focused on the marketing side, but the majority of best practices covered are relevant for any use case, so let's examine a few other possibilities:
Marketing
Share content to inform, educate, and influence your prospects and customers, simultaneously strengthening your brand's position as a go-to resource and industry thought leader.
Knowledge Management
Educate an internal audience—such as a team of researchers, on a particular topic.
Publishing
Build an online destination that can be monetized via advertisements or sponsorships.
Competitive Intelligence
Inform internal stakeholders about relevant news. For example, you might use curation to keep your sales team up-to-date on your competitors and industry.
Before you start curating content, ensure that you have a clear goal in mind.
2. FIND
Picking Your Topic
Picking your topic is an essential first step in developing a successful content curation program. Unlike other parts of the curation process which are performed on a repetitive basis, picking your topic is typically something you only need to do once.
Of course a topic can evolve over time, but you can ensure you're starting on the right foot if you engage in proper due diligence.
The Three Elements of a Perfect Topic
There are three factors to consider when finding the perfect curation topic: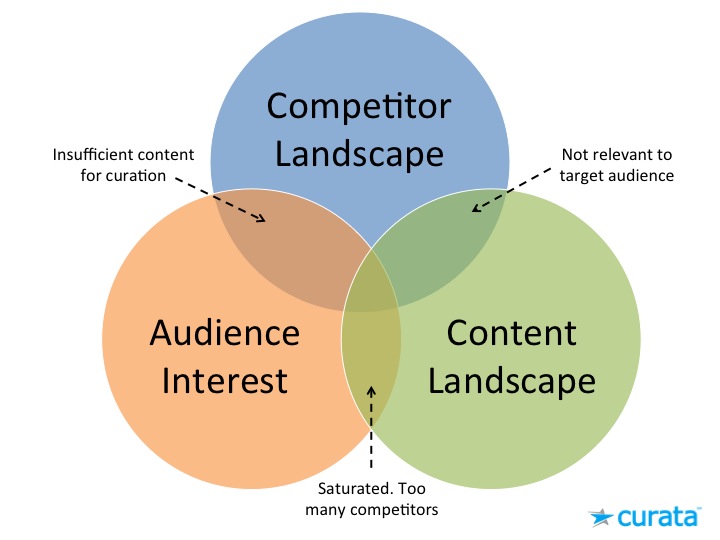 1. Competitive Landscape: How much competition is there for this topic?
2. Audience Interest: Is my target audience interested in this topic?
3. Content Landscape: Is there sufficient content on this topic for me to curate?
Ideally, you're looking for a topic that:
• Has relatively low competition, meaning it isn't already widely covered.
• Is of specific interest to your audience.
• Has generated sufficient content in the market for you to curate.
This topic should fall in the middle of the venn diagram. Below, I walk through three tests that help you choose the perfect topic.
Test 1: Survey the Competitor Landscape:
To survey the competitor landscape, look at other sites that cover your chosen topic and ask yourself the following questions:
Can I curate better than they can? Can you make your curation site more attractive to readers by offering greater depth of coverage, relevancy and/or consistency?
Is there a better perspective or opposing point of view? Can you curate the same content from a different angle, highlighting a unique take on the topic?
 Can I broaden or narrow my topic? Can you use increased specificity or, conversely, greater scope of topic to increase your content's "discoverability"?
Test 2: Survey the Content Landscape
In order to create a successful curation program, you must have enough content to curate. Here are a few quick and easy ways to assess the availability of content:
Plug your desired topic into Google News and sort your results by date to see how many articles are being created per day or week.
Do the same exercise in Twitter, Facebook, and LinkedIn.
Review blogs that cover your topic, either consistently or intermittently.
Test 3: Determine Your Audience Interest
Even after your topic passes the competitor and content landscape tests, the most important hurdle still remains. You have to ensure the topic is interesting to your business's target audience. If not, your curated content will fail to capture or hold your audience's attention. To gauge audience interest, use the following methods:
Use the Google Keyword Planner to measure the general level of online interest in a given topic.
Use either interviews or a simple survey to get a sample of your customers' opinions about your topic—how important it is, whether they feel they have information on it already, what specific questions they already have.
The perfect topic will pass all three tests: competitor, content, and audience. However, curators often need to work with a topic that is not quite perfect and only passes two of the three tests.
An example of a great topic can be found on IBM's Smarter Planet. IBM uses the site to educate professionals about smarter systems. They first surveyed their competitors and the current technology landscape before deciding that their audience (mainly IT professionals) would be interested in news about smart systems.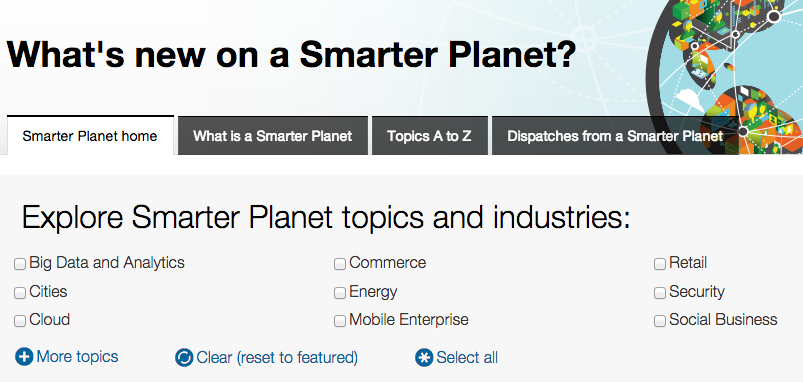 Discovering Content Sources
Once you've selected a topic, you need to find content sources to curate from. There are two broad types of sources to find articles from:
Known and Trusted Sources: These are sources that you, and likely your audience, are familiar with. If you've chosen your topic well, you should be able to find at least a dozen known and trusted sources by reviewing the content you consume via:

Trade publications
Twitter lists
Specific Twitter users
Industry blogs
LinkedIn Pulse
Scientific journals

Additional Sources: To supplement go-to sources, tap into these additional places for relevant content:

Feed readers
Email newsletters
Public relations teams

3. CURATE
After you have selected a topic and gathered your sources, it is time to start curating. The first responsibility of a curator is to decide which of your sourced articles is worthy of your audience's attention. Here are a few high-level criteria for making an initial assessment of an article's value:
Relevant. Is this content relevant to my audience? Though it may be related to my topic, does it offer any additional insights to my
audience that they may not already know?
Credible. Is this content from a publication I trust, such as a reputable site or blog? Or is it from a low-quality site with no credible authority in my subject area?
Diverse. Does this content offer an alternative viewpoint? It doesn't necessarily have to be one you or your organization agree with, just one that makes the discussion more interesting.
Validating. Does this content offer additional insight that validates my point of view?
Unique. Is this fresh content that provides my audience with new information or insight they haven't found elsewhere? If this content is available elsewhere, is my site doing a better job of highlighting and contextualizing it?
 
How Often Should I Curate Content?
While the answer varies depending on your audience size and the cadence of your other communications, the Curata Content Marketing Tactics Planner shows 48% of marketers are curating at least once a week.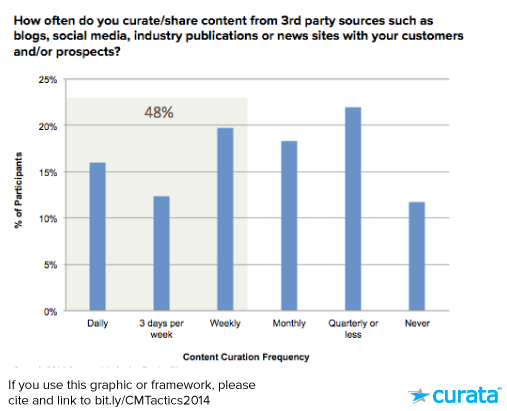 4. SHARE
All the work done so far—identifying, finding, and organizing your content—has been behind-the-scenes preparation for sharing your curated collection with your target audience. This is the moment of truth. As a content curator, you need to decide which sharing channels are best suited to your audience. However, if you are new to curating I suggest exploring your outreach options. In the following sections, I detail the pros and cons of these five sharing vehicles:
A dedicated site
A newsletter
Social media posts
Feed
An on-site news widget
A Dedicated Site
A dedicated site is sometimes called a microsite, and is populated primarily with curated content.
If you choose to create curated posts on a dedicated site, follow these structural and formatting best practices:
New Title- Don't be afraid to edit a title so it's more relevant to your audience. And consider adding an image if there isn't one, or replacing the image with something more likely to catch your audience's attention. Use design tools such as Canva or photo libraries like Shutterstock or Death To The Stock Photo.
Summary/Added Commentary- Whether you're agreeing or disagreeing with the original content's author, you should include:
A brief summary of the article, including some context around why you curated it.
A relevant quote from the original article. This is optional, but adds credibility.
Additional insight, opinion, and/or context.
Link Back – Always include proper attribution.
A Question – Questions help contextualize the content and increase reader engagement.
Call-to-Action– Give your readers the option to learn more about the article's topic and/or your company.

Email Newsletters
An email newsletter is a regularly recurring communication containing a digest of all your recently curated items, or a mix of curated and created items.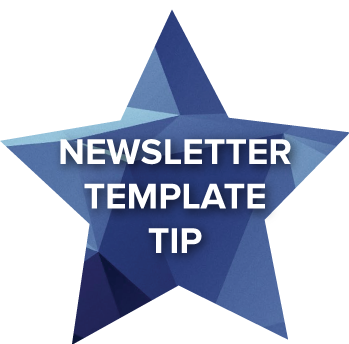 A good newsletter template should include the following:
Introduction – Let your audience know what you're delivering.
Recent, original pieces – This can include blog posts, infographics, webinars, or any other content your audience will find useful and/or interesting.
Relevant, timely, third-party sources – You may include articles you've curated via your blog and social media profiles.
Call-to-action – Invite your readers to click through to learn more, download an eBook, request a demo, etc.
Contact information and share buttons – Make it easy for readers to reach you and share your content.

Social Media Channels
Social media promotion includes status updates with links to curated content, shared via platforms such as Twitter, Facebook, and LinkedIn.
Twitter
Since it can be difficult to squeeze an entire message into 140 characters, we recommend starting a conversation with your readers by asking a question or voicing a strong opinion.
Facebook & LinkedIn
-New Title – Edit the title so it's as relevant as possible to your audience.
-Summary/Added Commentary – Include additional insight, opinion, and/or context.
-Ask a Question – Encourage readers to get involved in the conversation.
-Link Back – Always include proper attribution.
Feeds
Feeds are real-time, standardized, automatic content syndication.

Embedded Widget
An embedded widget is a small pane integrated via code on your existing web properties that displays content delivered via a feed.
IBM has an "Around the Web" widget on the IBM Big Data Hub microsite, as seen below.
You can also embed a Twitter widget on your site to syndicate content exclusively from your Twitter Account.
For an even more in-depth comparison of sharing
channels, download the full eBook here —–>
5. ANALYZE
After you have found, curated and shared content, it's vital to measure its success. Use this analysis to adjust your future curation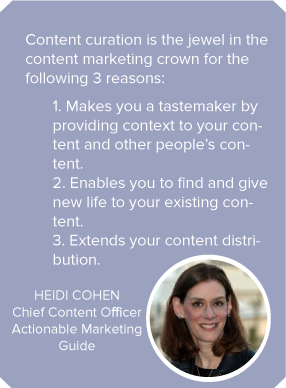 strategy. But keep in mind content curation metrics differ from those generated by most other content marketing strategies, because curation relies on third-party, off-site content. 
Let's take a look at metrics to pay attention to for content curation initiatives specifically, and just as importantly, misleading metrics to ignore.
Site/Blog Metrics
Metrics to Watch
Page Views and Visitor Growth. Similar to other content marketing campaigns, you can simply track traffic growth month over month in Google Analytics for page views and visitors.  As your site grows in terms of authority within your target audience by reputation, and in terms of search engine optimization (SEO), you should hopefully see a steady and healthy growth in traffic numbers.
Frequency & Recency. If you provide valuable content, your visitors will keep coming back to you as a trusted resource for a topic. If not, your visitors will click off to a third-party, and will likely never return again. Either way, the metrics will reveal this.
Visitor Counts measures how many times your visitors are coming back to your site. If the content you are curating is useful, your site will be good at retaining repeat visitors. 
Days Since Last Visit measures how often your repeat visitors are coming back to your site. If you are curating valuable content, this metric should reflect the frequency of your curation and publishing habits.
Metrics to Ignore
Total Site Visits. The most successful curators focus on a specific topic for a select audience. If you are doing a good job curating, you are likely doing this too. As a result, you should set your expectations appropriately when it comes to the total addressable site visitors. For a highly specific topic in a particular industry niche, even if you only have a few hundred visitors a day you may be doing a great job.
Comments. While comments on your curated content should not be ignored entirely, it should be taken with a grain of salt. It's natural for your readers to comment directly on the original article where the content was written. If your comment count is low, that may in fact be alright.
Engagement, Bounce Rate & Visit Time. These metrics tend to be high on sites with large amounts of original content, where users can spend a lot of time onsite in a single uninterrupted session. However, with curated sites the content consumption dynamics are very different. Visitors often leave the curated site to view interesting third-party content, and return again to read more content. As a curator, you should not be overly concerned about engagement, bounce rate, or time on site numbers.
Email Newsletter Metrics
Metrics to Watch
Subscriber Growth. If you have a sign-up form for your newsletter on your site, list growth is one of the most important metrics to watch. A steady growth in subscribers demonstrates people visiting your site find your curated content valuable enough that they want the content pushed to them via email.

Opt-outs & Unsubscribes. On the flip side, keep an eye on opt-out and unsubscribe rates. If you find many of your subscribers are leaving there are a couple of things you can do. Email them less often—perhaps change from a daily to weekly list; segment your list by topic so the content is more relevant to them; pay more attention to the content you are curating—perhaps you are being too self-promotional; or be more consistent—you may be curating sporadically which makes you less trusted.
Click Through Rate. Monitoring your click through rate is important to see how valuable your content is in isolation. If your audience is clicking through on your curated content, it's relevant, timely, and valuable. The converse is not necessarily true however: a low click-through rate can be deceiving. Many readers get value by skimming headlines, even without clicking through.
Metrics to Ignore
Open Rate. While curated newsletters typically enjoy the highest open-rates, more than lead nurturing or promotional emails, open rates are often misleading. Open rates for any email newsletter can only be computed for readers who click through on links or don't disable images in newsletters. So if you see a 25% open rate, the actual open rate is likely much higher
Social Media Metrics
Metrics to Watch
Followership/Fan Growth. If you share your content over social channels such as Twitter or Facebook, a good metric to track is your followership or fan page growth. While a larger number of people may be viewing your content as they browse Twitter, the ones who value your content and want to continuously receive it will follow you (or may simply be hoping for a follow back).
Retweets. Another social media metrics to track is retweets. While this is a metric for any content marketer, curators can employ a little trick to better track the spread of their curation efforts. When you share a third party article on Twitter, retitle its headline. This allows you to share your perspective, make it more appealing—and also more cleanly track retweets.
Feed Metrics
Metrics to Watch
Views, Click-throughs, Subscriptions. To measure the success of a feed requires seeing if it's being viewed and if people are subscribing to it. To track the consumption (views, click-throughs) and retention (subscriptions) of your feed, use feed analytic tools such as FeedBurner and FeedBlitz.
While many of the metrics above don't markedly differ from typical content marketing metrics, curation does significantly change things by providing a different content consumption experience. New curators are often thrown off by strange and disturbing looking metrics such as bounce rates—which they should be ignoring. Hopefully this provides a quick overview of the best metrics for curation.

What's Next?
The most effective marketing is no longer just about your product or even your customer's needs. Today's most evolved marketers understand their strategy needs to include a larger ecosystem that considers their entire market and industry. We hope, having read this guide, that you now have a better understanding of exactly how content curation helps you do just that.
For more content curation resources and a bonus 12-step content curation checklist, download Curata's full eBook on the topic, The Ultimate Guide to Content Curation.