What you should know about Image Licenses
Today's web technology makes it very simple to download any image that you'd like, and then use that image (or a thumbnail) in your own content. As a good content marketer knows, articles curated with pictures get 47% more click-thru activity than content without, as shown in Curata's Curation Habits Report 2012. At the same time, some of those images have copyrights and licensing fees associated with them.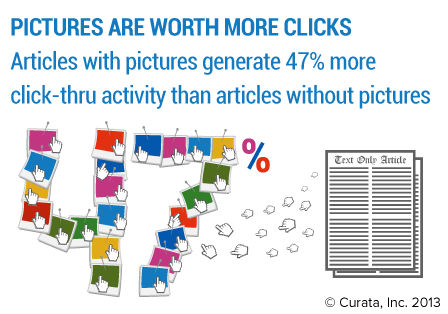 A select few third party image licensing companies have been known to target unlicensed usage of their images.  Not only may they ask you to stop using the images in question, they may attempt to charge retroactive usage fees.
There are two ways to proactively protect yourself in such scenarios:
Pay royalties for any applicable images you use so that all the images you use are using it in a licensed manner.
Avoid copyrighted images. Rather than license the images in question, you can instead avoid using such images altogether and instead solely use images that have public domain or creative commons licenses that require no royalty payments.
For most cost-conscious curators, the second option is more amenable.  However, in either case, you need to know which images are licensed and which are not, so you can then act accordingly (by either licensing the image, or choosing not to use it).
We've found two great options for locating the right image for you.
TinEye: Allows you to do a reverse image search, looking up the license tied to an online image and can generally detect which images are licensed and which are not.
Zemanta (also integrated with the Curata product's dashboard) is a smart search, allowing bloggers and other content creators and curators to find the right image based on a few key terms through image recommendations.
Deciding what to do if you find a licensed image
If you determine an image you'd like to use is does not require a license and provides you with rights to use it for your use case, then you're good to go.
However, if TinEye or Zemanta indicates that the image belongs to a stock photo site and requires a license, you must make a decision on whether you want to pay for the use of this image. If you decide to license it, you'll need to do so with the stock photo site that is mentioned in the result set.  If not, you should choose to use a different image.
The bottom line is that we want you to make sure you're protecting yourself as an ethical and responsible curator. Are there other licensing products out there that you use? Post a comment and share!