The content marketing world is buzzing with excitement as the annual Content Marketing World quickly approaches. We here at Curata are just as excited as everyone else about the event.  So much so that we have put together a map (not to scale) of Cleveland highlighting the official Content Marketing World events, as well as a selection of restaurants, attractions and stores to visit.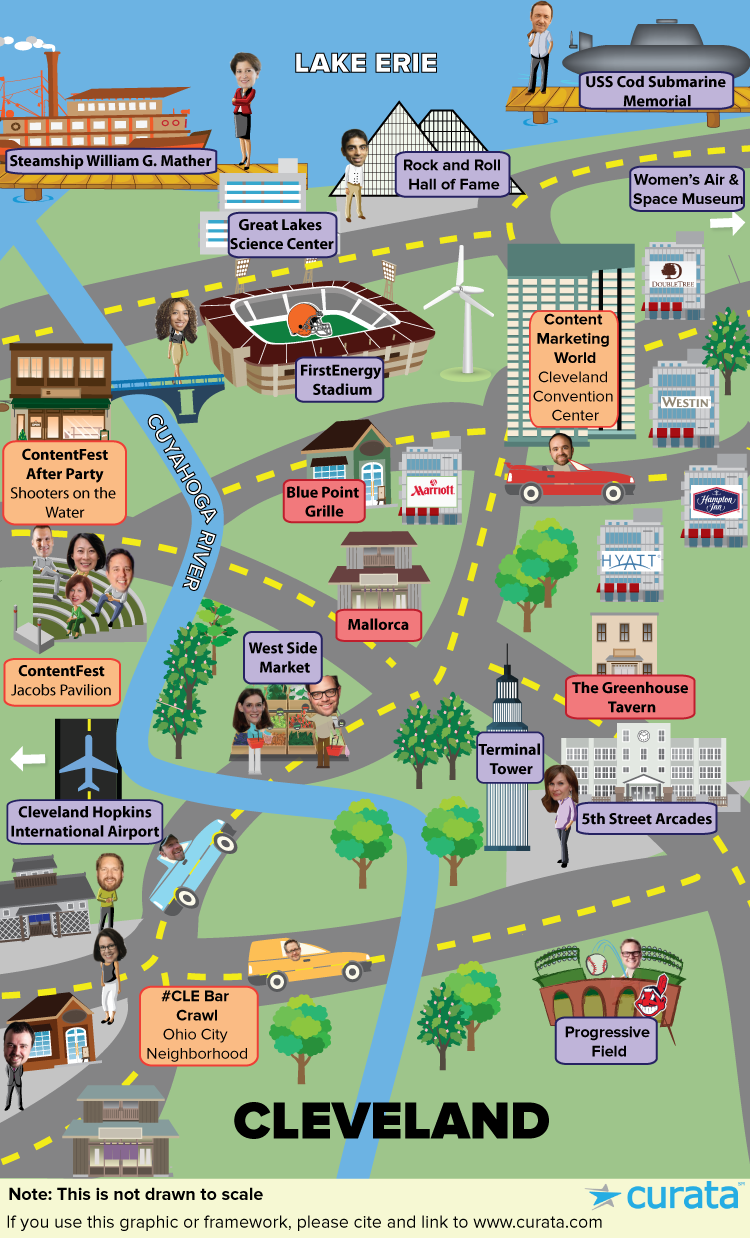 Cleveland, known to many people as the "comeback city", offers its guests a plethora of options from restaurants to attractions to retail.  Below you'll find a brief description of many of the things to do during your visit to Cleveland, including its popular (and lesser known yet worthwhile) destinations.
Did we miss any of your favorite spots? Let us know in the comments below.
Official CMW Events
Content Marketing World
Cleveland Convention Center
The main event features hundreds of speakers, sessions and booths showing off the latest technologies in content marketing.
Be on the lookout for these cool giveaways from a few of this year's sponsors:
Atomic Reach –Atomic Reach swag and the opportunity for attendees to learn their "Atomic Score".
DemandBase – Chocolate bars, USB wall chargers and cotton candy.
NetProspex – A chance to win a pair of Google Glasses.

TrackMaven – TrackMaven's booth will be Corgi-themed (yes! the dog) — they will be giving away Corgi swag such as sticker seats and Corgi t-shirts.
Curata –See Curata in action at their Demo Zone and receive a free  signed copy of Pam Didner's book, Global Content Marketing (Sign up for a time slot today).
In addition to the main conference, there will be events around town:
#CLE Pub Crawl
Ohio City Neighborhood
Monday, Sept. 8 from 6:30 – 8:30 p.m.
Kick off the conference with exclusive access to some of the hottest bars in the Ohio City neighborhood by attending a pub crawl sponsored by Skyword.
ContentFest
Jacobs Pavilion
Tuesday, Sept 9 from 7:00 – 9:00 p.m.
Unwind after the first full day of the conference with a concert featuring Cleveland-based Welshley Arms and 1964 the Tribute, dubbed the best Beatles cover band by Rolling Stone. (Sponsored by CrowdContent). Hungry for a late-night snack? There will be more than a dozen food trucks parked by the Pavilion.
ContentFest After Party
Shooter's on the Water
Tuesday Sept. 9 from 10:30 p.m. – 12:30 a.m.
Keep the night alive at Shooter's on the Water with food and networking, sponsored by SAP.
What to Visit 
Steamship William G. Mather Maritime Museum – Embark on a self-guided tour of this retired ship that was once used to transport ore, coal, stone and grain to ports throughout the Great Lakes.
USS Cod Submarine Memorial – Stop by and explore this navy vessel that was first launched during World War II.
Great Lakes Science Center – Make good use of your time by spending a free afternoon to check out some of the educational exhibits or catch a movie at the OmniMax.
Progressive Field – The Cleveland Indians will be playing at home all week. Check out their schedule here.
Rock and Roll Hall of Fame – If you have any spare time this week, don't miss the famous Rock and Roll Hall of Fame and use this discount code that CMI provided for $4 off adult ticket prices.
FirstEnergy Stadium – You can't miss this stadium that's host to the Cleveland Browns home games and other college games.
What to Buy
West Side Market – Swing by the market for fresh fruit, vegetables, meat and much more from over 100 vendors at Cleveland's oldest marketplace. Here are some cool vendors to visit:
Crepes Deluxe – Home of authentic, Parisian style crepes.
Paradise Flowers– Want to congratulate a CMW speaker? Grab them a bouquet of flowers at this full-service florist.
The Cheese Shop – Choose from over 175 traditional and rare cheeses at this shop that encourages sampling before purchasing!
Rock & Roll Hall of Fame Gift Shop: – Stop in the gift store to get rock and roll gear such as these two items:
Great Lakes Science Center: The Science Store: Embrace your inner nerd and buy Kinetic Sand — watch it float and be amazed.
5th Street Arcades – A one-stop destination for shopping in downtown Cleveland. Spend a few hours browsing the shops and restaurants or visit some of our favorites:
Chocolate76– Want to satisfy your sweet tooth or bring back a treat to the office? Check out Chocolate76 for homemade desserts and chocolates such as pecan turtles and chocolate-covered oreos.
Kernels by Chrissie – If you're looking for something salty, grab a tin of regional, gourmet popcorn.
Colossal Cupcakes – Over 50 cupcake flavors and the first-ever cupcake milkshake.
Big Fun Toy Store – This toy store was recently named one of the "coolest stores in America" by Playboy and is a 15-minute drive from downtown Cleveland. If you have a rental car, be sure to check it out.
Where to Eat
Blue Pointe Grille – This restaurant is a 5-minute walk from the Cleveland Convention Center and features a wide range of seafood in addition to traditional fare. A Zagat survey named this "Cleveland's most popular restaurant."
Mallorca – Just a 15-minute walk from the convention center, this restaurant offers a taste of Spain and Portugal in the middle of downtown Cleveland.
The Greenhouse Tavern – A hidden gem that provides a wide range of vegan and vegetarian options. Curata is hosting a dinner here on Wednesday Sept. 10 (Contact Michael Gerard if you are interested in attending!)
Melt Bar & Grilled – In the mood for a grilled cheese? Make it gourmet at this hotspot. 
Lola Bistro – Peter Loibl of CMI says this is his favorite restaurant in all of Cleveland. It's also the flagship restaurant of celebrity chef Michael Symon.
Little Italy – There are over 20 Italian restaurants to choose from and several fine art galleries to peruse.
Who To See
BONUS: Can you find these Content Marketing World Speakers in the map above ?
Kevin Spacey, Actor
Joe Pulizzi, CMI
Pawan Deshpande, Curata
Ann Handley, MarketingProfs
Julie Fletcher, Kraft Foods
Andrew Davis, Author
Jay Baer, Author
Brian Clark, CopyBlogger
Heidi Cohen, Actionable Marketing Guide
Pam Didner, Author
Jonathan Colman, Facebook
Gini Dietrich, Author
Gurdeep Dhillon, SAP
Scott Abel, The Content Wrangler
Jeff Charney, The Progressive Corporation
Scott Scratten, Author
Lee Odden, TopRank Online Marketing
Jason Miller, LinkedIn
Marcus Sheridan, The Sales Lion
Rebecca Lieb, Altimeter
Katrina Craigwell, General Electric
If you are attending Content Marketing World, stop by Curata's booth (#61). We'd  love to meet you!